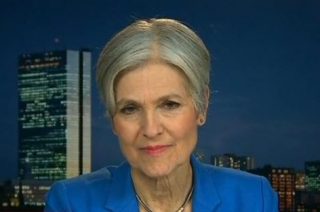 Late Wednesday, a federal judge in Michigan ended the state's recount of votes in the Presidential election. Judge Mark Goldsmith dissolved the court's temporary restraining order to "to cease any delay in the commencement of the recount" of votes in the Presidential election, which had been granted on Monday and affirmed by the Court of Appeals on Tuesday. The order was subject to a state court's decision as to whether the recount was appropriate at all.
The Michigan state Court of Appeals ruled that the recount never should have started in the first place, because Jill Stein, who brought the case, couldn't be considered an "aggrieved candidate" with a right to initiate it. Because Stein's candidacy could not benefit from a recount since she was nowhere close to receiving enough votes to make a difference, she did not have a right to a recount.
Stein tried to bring a new argument to the federal court, in a last-ditch effort to keep the temporary restraining order that had required the recount to continue. She argued that she had a Constitutional right to a recount. Judge Goldsmith wrote in his decision that there is no such right, other than a right "to participate in a fair election, free from tampering or mistake." While Stein alleged "speculative claims going to the vulnerability of the voting machinery," Judge Goldsmith wrote that she did not bring any actual evidence of tampering.
Therefore, the judge dissolved the court's restraining order that had kept the recount alive, effectively bringing the process to an end.
Stein reacted to the decision on Twitter Thursday morning, expressing her disappointment.
It's disheartening a judge gave in to Donald Trump and Michigan Republicans, and lifted his emergency order that had kicked off #RecountMI.

— Dr. Jill Stein (@DrJillStein) December 8, 2016
Stein has made similar efforts for recounts in Wisconsin and Pennsylvania. There will be a federal hearing on Friday over whether the Pennsylvania recount should take place, after Stein moved for an emergency order earlier this week. The Wisconsin recount is underway, and has so far resulted in winner Donald Trump having an even larger lead.
Stein v Thomas by LawNewz on Scribd
[Image via CNN screengrab]
Have a tip we should know? [email protected]