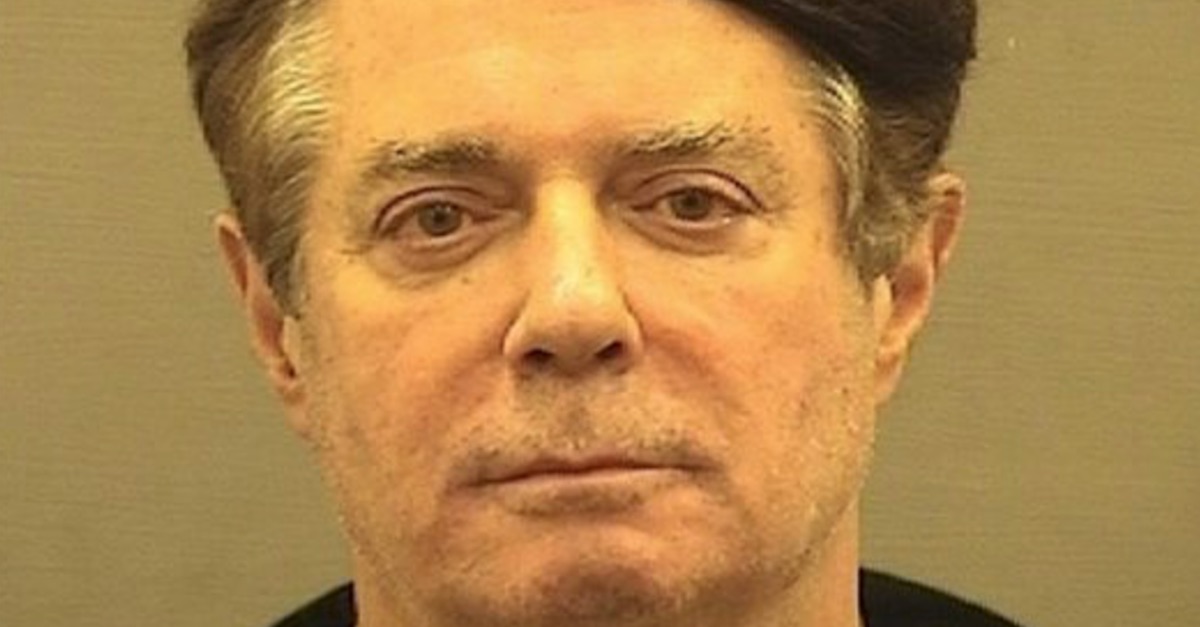 It seemed like it would be former Trump campaign chairman Paul Manafort's (first) day of reckoning, but the judge in his case sentenced him to 47 months — well below the sentenced proposed by the special counsel.
In the aftermath of a filing in which special counsel Robert Mueller dismantled each and every argument Manafort's defense attorneys made to get their client a sentence below the 19-24.5 years recommended, we returned to Judge T.S. Ellis III's Eastern District of Virginia courtroom, where a sentencing hearing began at 3:30 p.m. on Thursday.
Manafort appeared in the courtroom wearing a green prison jumpsuit. He was in a wheelchair.
Manafort's lawyers had said that their client isn't a "brazen" criminal and has been railroaded by the special counsel. In arguing for a reduced sentence, they repeatedly mentioned that there was no evidence of collusion, while citing various factors like health concerns, acceptance of responsibility, numerous testimonials to character, and a slew of other bank/tax fraud cases where defendants received a significantly lighter sentence than the one Mueller proposed.
Mueller dismissed all of those arguments on Tuesday. Judge Ellis said Manafort would no get credit for cooperation or acceptance of responsibility before taking a brief recess. Along the way, Ellis casually mentioned that "they hung pickpockets" in England centuries ago.
Early on in Manafort's Virginia bank and tax fraud trial, Judge Ellis' colorful, and at times inappropriate comments from the bench, grabbed headlines. None of his comments caught more attention than the ones questioning Mueller's intentions in prosecuting Manafort. Manafort's lawyers, in their last act before sentencing, reminded Ellis of the words, "You don't really care about Mr Manafort's bank fraud […] What you really care about is what information Mr. Manafort could give you that would reflect on Mr. Trump or lead to his prosecution or impeachment."
The "pickpocket hanging" remark turned out not to be a sign of things to come. Ellis said that the 19-24.5 years proposed was "excessive" and went with 47 months instead.
Judge Ellis came to this conclusion even as he recognized that Manafort "did not express regret."
Manafort did say that the last two years have been extremely trying and the feels "humiliated" and "shamed." While 47 months is certainly not nothing, it seems Mueller and his prosecutors may be the ones humiliated here. CNN's Evan Perez described them as "astonished" when Ellis handed down this sentence.
Manafort was found guilty in Aug. 2018 on eight of 18 felony counts. The jury was hung on the remaining 10 counts due to a lone holdout juror. Manafort will also be sentenced in his Washington, D.C. case on March 13.
[Image via Alexandria Detention Center]
Have a tip we should know? [email protected]