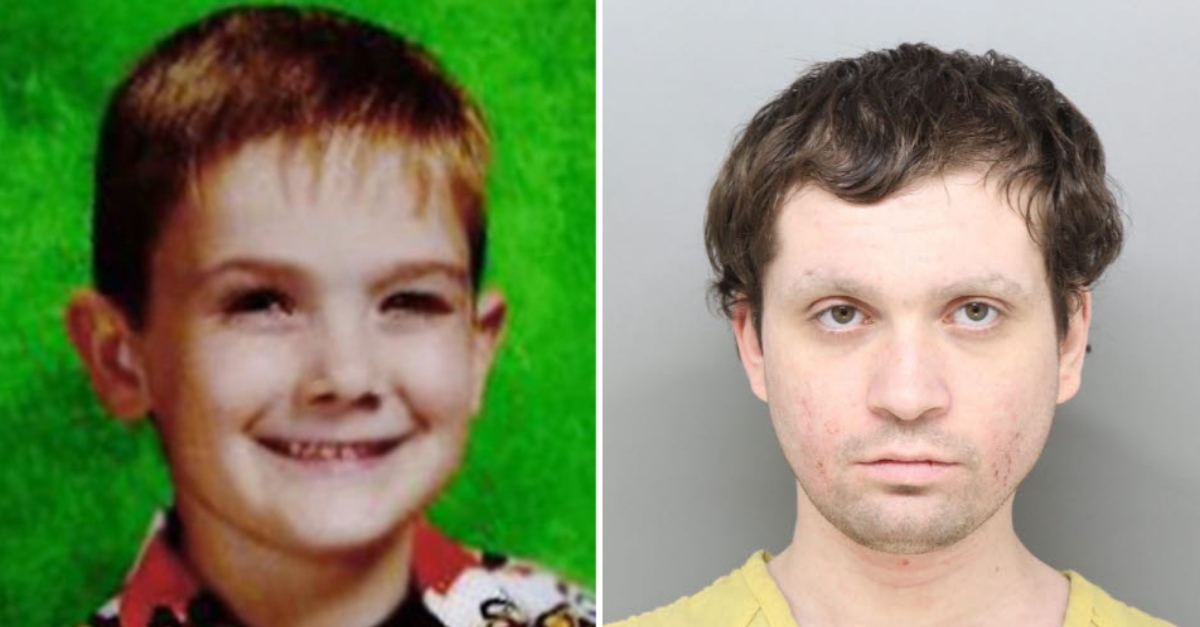 Look at the picture above. Missing boy Timmothy Pitzen is pictured on the left. Pitzen disappeared in 2011 when he was 6 years old, meaning he would now be 14 years old. Brian Rini, pictured on the right, is a 23-year-old man who now faces charges for allegedly lying to investigators by claiming to be Pitzen.
Authorities aren't pleased about what has happened in this case, especially since it's given Pitzen's surviving loved ones false hope.
"False reports like this can be painful to the families of missing children and also divert law enforcement resources in order to investigate these untruthful claims," said Acting Special Agent in Charge Herb Stapleton. "Law enforcement takes dishonest reports very seriously, and we caution that people making false claims can and will face criminal penalties."
Federal and local law enforcement announced charges against Rini at a press conference Friday morning. They claim he took advantage of the Pitzen case to file a false claim.
The defendant stepped forward on Wednesday, claiming he was a now-14-year-old Pitzen, according to a police report. He said he had just escaped from two kidnappers at a Red Roof Inn. He described them as white, with "body-builder type" builds and tattoos.
All lies, said investigators. What's more, they say it isn't even the first time Rini has done this.
An FBI affidavit says Brian Rini, who claimed to be missing boy Timmothy Pitzen, had claimed 2x before to be a juvenile victim of sex trafficking. He told investigators multiple times he was Pitzen. Eventually admitting to seeing Pitzen's story on tv. He faces up to 8 yrs in jail pic.twitter.com/Tv9Q0944V3

— Perry Schaible (@Local12Perry) April 5, 2019
It's unclear at this time if Rini has an attorney in this matter.
Witnesses who first encountered Rini believed that he was the victim of a "horrific situation."
#NEW at 11PM: Neighbors who first spotted Brian Michael Rini, 23, who claimed he was a missing boy from Illinois, were stunned to find out Thursday that it was all a lie.

They believed he was in need of help and that he had escaped a horrific situation. #wlwt @wlwt pic.twitter.com/8auxrV4p71

— Dan Griffin WLWT (@DanGriffinWLWT) April 5, 2019
Jonathon Rini, the suspect's brother, told reporters Thursday that he hopes his sibling goes to prison, or some sort of institution. He said they haven't spoken in about four years and that his brother has constantly done "stupid stuff" over the years. Jonathan said his brother once claimed to be him during a traffic stop and no-showed at court, resulting in a warrant for his arrest.
"I'll tell the family that I'm sorry for what he's done," he said. "But for him, I wouldn't even speak to him."
The brother of Brian Rini, the man police say impersonated a missing boy from Illinois, spoke to reporters Thursday afternoon, saying Brian has been doing "stupid stuff" like this for as long as he can remember.

READ MORE >>> https://t.co/xQV3j5AJw0 pic.twitter.com/Y60E9wPYdf

— Local 12/WKRC-TV (@Local12) April 5, 2019

Jonathan said he had no idea why his brother would do this.
Timmothy Pitzen disappeared in 2011 after his mother Amy Fry-Pitzen allegedly pulled him out of school early. Fry-Pitzen apparently committed suicide in an Illinois motel room and left behind a note saying that her son was in safe hands.
"You will never find him," she allegedly wrote.
Timmothy's father Jim Pitzen told PEOPLE in 2015 that his wife suffered from depression. He acknowledged this caused marital problems, but doubted Fry-Pitzen would've gone so far as to hurt their son.
[Image of Timmothy Pitzen via National Center for Missing and Exploited Children; mugshot of Brian Rini via Hamilton County Jail]
Have a tip we should know? [email protected]