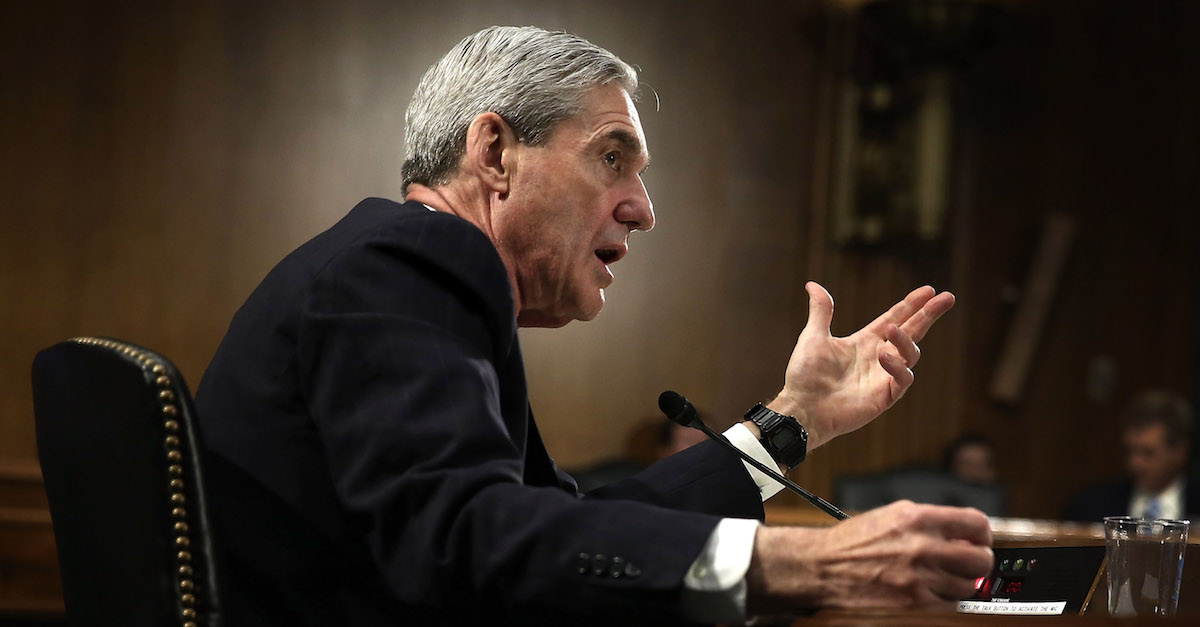 A big point of contention between House Democrats and the U.S. Department of Justice is whether or not Attorney General William Barr can/should give Congress an unredacted version of Special Counsel Robert Mueller's Russia report. Barr said he was prepared to turn over the report with sensitive information blacked out, such as information from grand jury proceedings, which is secret as per the Federal Rules of Criminal Procedure. Rule 6(e) allows for courts to order the disclosure of grand jury information in certain cases, and there is precedent for such a thing to happen. A new opinion from the D.C. Circuit Court of Appeals, however, doesn't bode well for disclosure.
The case, McKeever v. Barr, has nothing to do with Mueller, President Donald Trump or Russia, but it has everything to do with when a court can or cannot order the disclosure of grand jury information. Stuart McKeever, an author and attorney, has been trying to piece together what happened in the case of Columbia University professor Jesus Galindez who vanished from New York City in 1956. He was believed to possibly have been taken to the Dominican Republic and murdered by agents of dictator Rafael Trujillo, of whom Galindez had been critical. The case led to the indictment of John Joseph Frank, a former FBI agent and CIA attorney who went on to for Trujillo. McKeever believed Frank was behind Galíndez's disappearance, court documents said. Frank was indicted for being an unreported foreign agent, but not for Galindez's murder.
McKeever, who had been writing about and looking into the Galinez case for decades, asked the court to release the secret grand jury information in the Frank case, claiming that otherwise people like him would have difficulty investigating cases where grand juries either didn't finish investigating or dropped the investigation altogether. The Department of Justice, on the other hand, argued that judges don't have the authority to do this, unless the information falls under particular exemptions that they said don't apply to this situation.
The D.C. Circuit agreed with the DOJ in a 2-1 decision. Senior Circuit Judge Douglas Ginsburg noted that Rule 6(e) is very clear on when a court can order disclosure of grand jury information.
"That the list of enumerated exceptions is so specific bolsters our conclusion," he wrote, adding that "McKeever points to nothing in Rule 6(e)(3) that suggests a district court has authority to order disclosure of grand jury matter outside the enumerated exceptions."
When McKeever was first arguing his case before the D.C. Circuit, former Watergate prosecutor Philip Lacovara told Politico that the case could have ramifications when it comes to grand jury information being released in Mueller's report.
"There are people who are interested in the options open to Mr. Mueller and his investigation who recognize the potential significance of this case," he said. "It certainly could complicate matters."
As Law&Crime reported recently, precedent seemed to indicate that courts might allow the release of grand jury information in Mueller's report to Congress, just as Judge John Sirica did in the Watergate case. McKeever cited this matter in the case of Haldeman v. Sirica, as did the dissent from Judge Sri Srinivasan. Judge Ginsburg addressed this in a lengthy footnote. He noted that the Sirica case "permitted the disclosure of a sealed grand jury report to aid in the inquiry by the House Judiciary Committee into possible grounds for impeachment of President Nixon," and that he reads the case "as fitting within the Rule 6 exception for 'judicial proceedings.'"
In light of this, should the House of Representatives look to impeach President Donald Trump, this wouldn't hurt their chances of being able to get Mueller's grand jury information for that purpose. Getting it now, when Barr is looking to redact if from the publicized version of Mueller's report, however, appears to be highly unlikely — unless the Supreme Court decides to get involved and rules differently.
[Image via Alex Wong/Getty Images]
Have a tip we should know? [email protected]