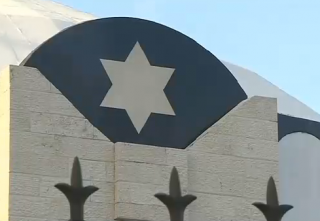 A sting operation resulted in federal agents arresting a man who they believe was going to throw an explosive device into a Florida synagogue, law enforcement sources told WSVN. FBI operatives reportedly posed as terrorists, and stopped the unidentified suspect on Friday, the second to last day of Passover, keeping him from carrying out an attack on the Aventura Turnberry Jewish Center. The synagogue was filled with people attending holiday services.
WSVN-TV – 7NEWS Miami Ft. Lauderdale News, Weather, Deco
Florida's Local 10 News reported that an undercover agent had met with the suspect, who allegedly thought he was buying an explosive device. The arrest was made before he got the chance to carry out any attack, so the building was never in danger.
The Jewish center's rabbi and executive director said in a statement, "We are extremely grateful to our partners in law enforcement for their professionalism, care and commitment throughout this incident."
The suspect is expected to appear before a federal judge early this week.
Update 5/2/16 5:01pm: The U.S. Department of Justice announced that the suspect is James Gonzalo Medina of Hollywood, Florida. He was charged on Saturday for attempting to use a weapon of mass destruction.
The FBI was first alerted to Medina by conversations he reportedly had about attacking a synagogue. After an undercover operation involving the South Florida Joint Terrorism Task Force, the FBI learned the target of Medina's alleged planned attack, and discovered evidence of anti-Semitism. According to the Department of Justice, Medina was arrested on April 29, when he approached the synagogue after acquiring a device that the FBI already had made inoperable.
[screengrab via WSVN]
Have a tip we should know? [email protected]