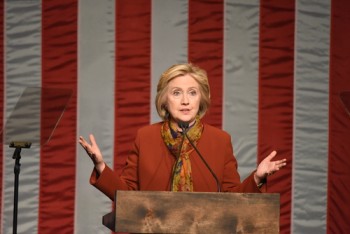 The bad news just keeps on coming for Hillary Clinton.  The FBI's investigation into how sensitive intelligence "jumped the gap" between classified systems and Hillary Clinton's unsecured private server is focusing on whether classified access passwords were shared among Clinton and her closest aides, according to a new report on Thursday.
According to a source who spoke to Fox News Intelligence Correspondent Catherine Herridge, this is significant because, "if [Clinton] was allowing other people to use her passwords, that is a big problem."
It remains unclear which Clinton aides are under investigation, but according to one source who spoke with Fox News, the list of individuals likely includes key Clinton aide Jake Sullivan due to the large number of e-mails he forwarded to Clinton's server.  In fact, at least one exchange between Sullivan and Clinton included highly classified information about human spying. Huma Abedin is also thought to be a focus of the investigation as at least one e-mail she sent included highly classified information about Libyan troop movements in 2011 — and that e-mail is what kick started the initial FBI probe into the Clinton e-mail server.
According to the report, different passwords are required to access all State Department networks, including the highly classified Secured Compartment Information or "SCI" network as well as the Sensitive But Unclassified "SBU" network system.  Password sharing is prohibited by the Foreign Service Officers Manual — and it would also be a separate crime to allow someone without the proper clearance to access either system.
Herridge's sources also told her there were several scenarios for how classified material may have "jumped the gap" over to Clinton's server:
Reading intelligence reports or briefings, and then summarizing the findings in emails sent on Clinton's unsecured personal server.
Accessing the classified intelligence computer network, and then lifting sections by typing them verbatim into a device such as an iPad or BlackBerry.

Taking pictures of a computer screen to capture the intelligence.

Using a thumb drive or disk to physically move the intelligence, but this would require access to a data center. It's unclear whether Clinton's former IT specialist Bryan Pagliano, who as first reported by The Washington Post has reached an immunity deal with the Justice Department, or others had sufficient administrator privileges to physically transfer data.
All of the above listed scenarios for transferring classified information are strictly prohibited by federal law and many of the scenarios would require a password, according to the report.
[h/t Fox News; image via shutterstock]
Have a tip we should know? [email protected]