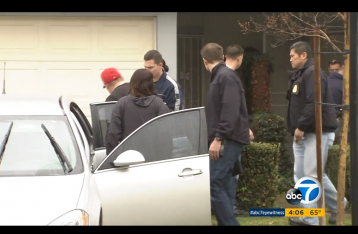 FBI Agents in Los Angeles on Thursday morning arrested three people connected to San Bernardino terrorist Syed Rizwan Farook, on charges of marriage fraud, conspiracy and lying to federal investigators, according to a criminal complaint.
FBI Agents conducted another search warrant (3rd since the December shootings) on Thursday morning at the home of Syed Raheel Farook, the older brother of Rizwan Farook, and arrested Raheel Farook and his wife, Tatiana Farook, according to Paul Mercado, a spokesman for the Corona Police Dept.  A second search warrant was served at the home of Mariya Chernykh and she was arrested by FBI Agents.  Chernykh is the sister of Tatiana Farook.
All three were charged in a five-count indictment filed in federal court, according to the LA Times.  The charges stem from the alleged fraudulent marriage between Chernykh and Enrique Marquez, who has been charged with aiding terrorist Rizwan Farook in the deadly Dec. 2 attack at the Inland Regional Center.
Furthering explaining the details surrounding the charges, the LA Times writes:
In the course of the investigation into the terrorist attack, federal investigators determined that Marquez received money to marry Chernykh, who took part in the wedding only in order to gain legal status in the U.S. FBI agents interrogated Chernykh as part of the probe into the terror attack, and prosecutors say she lied during those interviews, saying she lived with Marquez, when she actually resided in Ontario.
The U.S. Attorney's Office said Raheel Farook, Tatiana Farook and Chernykh are expected to make their first appearances in federal court later on Thursday.
[image via screengrab]
Have a tip we should know? [email protected]