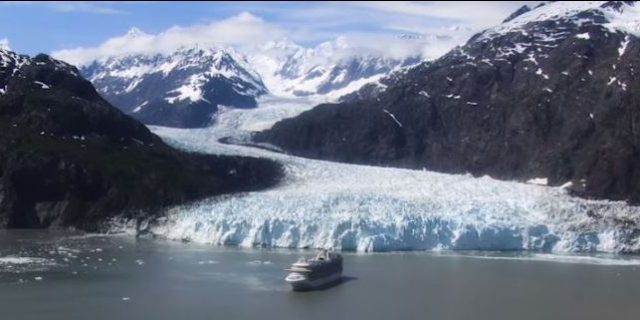 ANCHORAGE, Alaska (AP) — A suspect is in custody in the death of a woman during a domestic dispute on a cruise ship in U.S. waters off Alaska, the FBI in Anchorage said late Wednesday.
FBI spokeswoman Staci Feger-Pellessier had no other details ahead of a scheduled Thursday news conference at which the U.S. attorney's office plans to announce charges.
Princess Cruises said the 39-year-old woman died Tuesday night on the Emerald Princess, which was carrying 3,400 passengers and 1,100 crew members on a weeklong trip that left Sunday from Seattle.
Company spokeswoman Negin Kamali declined to provide any other details, including the woman's name, and referred questions to the FBI.
The Emerald Princess was diverted to Juneau because of the investigation, which the Coast Guard was also involved in. The ship arrived in Juneau early Wednesday, and passengers were stuck on board for more than eight hours before they were allowed to disembark. While on board, some scoped out their surroundings with binoculars or took pictures, while others watched the comings-and-goings in the restricted-access area leading to the ship. Some waved to onlookers on shore.
The scene was a bit harried as people got off the boat, trying to figure out if their shore excursion was still on or making alternate sight-seeing plans.
Suzanne Ragsdale, of Houston, said passengers were notified late Tuesday about security issues and told over the public address system Wednesday morning that there had been a death. She said being onboard for so long was "awful" and that her kids were bored.
Her family had hoped to see Mendenhall Glacier, a popular local destination, and to do some whale watching. She said she was able to rebook a whale watching cruise for Wednesday evening.
"I was hoping we'd be cruise people. We may not be after this," she said.
Zane Edwards, who was traveling with his family, said efforts were made to take care of passengers. There were games in the main atrium and movies playing in theaters, he said.
Edwards, of California, said this is his first trip to Alaska, though he's been on other cruises. "It's like a mini city. Things are going to happen," he said.
Earlier, several people, including at least one child, were escorted by authorities off the vessel in separate groups. Some were wearing white and gray hooded sweat shirts, with hoods or umbrellas in some cases obscuring their faces.
The groups were whisked away in vehicles with dark-tinted windows that waited in a restricted area of the port.
No further schedule changes were expected for the cruise, which was set to leave late Wednesday and head to the southeast Alaska town of Skagway.
Conversations were underway to offer passengers compensation for lost time, such as providing credits for shore excursions, Kamali said.
The FBI said it is required to step in when such deaths occur in international or U.S. waters.
This articles was written by Rachel D'Oro and Becky Bohrer of the AP.
[Image via Princess Cruises screengrab]
Have a tip we should know? [email protected]