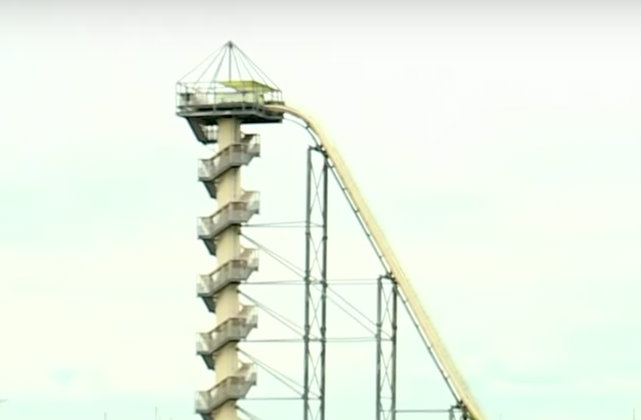 Caleb Schwab's family will receive almost $20 million in settlements from his death at an amusement park water slide. Schwab passed away on August 7 after an accident resulted in a fatal wound to his neck. He was riding on a water slide with two unrelated women when it allegedly rose and he struck the netting system placed above the ride.
The Kansas City Star obtained court documents breaking down the payment amounts, and laid it out in a Thursday report.
$14 million came from SVV1 and KC Water Park. These companies are linked to the amusement park company Schilitterbahn, which is based in Galveston, Texas. $5 million came from Henry & Sons Construction, the general contractor for the water slide called Verrückt. Zebec of North America, who made the slide's raft, will pay $500,000. The National Aquatics Safety Co. and its founder John Hunsucker agreed to shell out $232,125; this company consulted on the ride.
These agreements were announced in January and April, but the amounts were not publicized. With rare exceptions, defendants in settled cases continue to deny wrongdoing. For example, here's an April statement from attorneys representing one of the companies:
And although Dr. Hunsucker and (National Aquatics Safety Company] deny and continue to deny any liability associated with this tragic accident, Dr. John Hunsucker, individually and on behalf of his company — National Aquatics Safety Company — expresses their deepest condolences to the Schwab family and each and every one of those affected by what happened that day, and are hopeful that the resolution reached will help bring some closure to the those affected.
Schilitterbahn has announced they'll remove the slide once they get an official okay. A court order prevented the ride's removal until the Kansas Attorney General's Office finishes its investigation into possible criminal charges. That probe is ongoing. Other riders have reported issues with the water slide.
Caleb Schwab's father Scott serves on the Kansas House of Representatives as Republican. The family declined to comment publicly when the Star reached out.
[Screengrab via ABC]
Have a tip we should know? [email protected]