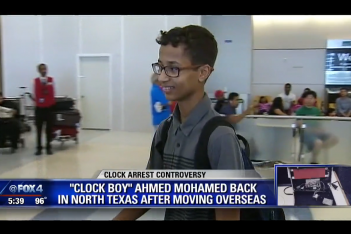 The family of the Texas student who became known as "Clock Boy" has filed a lawsuit against a high school principal, the Irving Independent School District, and the City of Irving, TX.  The lawsuit alleges the defendants violated the civil rights of Ahmed Mohamed (a.k.a. Clock Boy) in how they responded to the discovery of a homemade clock device Mohamed brought to school.
As you may recall, last year Mohamed brought to school a homemade digital clock encased in small briefcase.  When he was questioned about the device, school officials say he was less than cooperative.  He was subsequently arrested and charged with possession of a hoax bomb device. News of the incident quickly went viral and Mohamed was even invited to the White House by President Obama. The charges were eventually dropped, according to NBC-DFW, but Mohammed was still suspended by the school district for three days.  Mohamed moved to Qatar with his family after the incident, but he returned to the U.S. this summer to complete internships at several tech companies, according to Fox4.
Late last year, attorneys representing Mohamed reportedly sent demand letters to the City of Irving and the Irving Independent School District seeking an apology and payment of $15 million to avoid further litigation, the NY Post reported.  If any negotiations took place between the parties, they evidently failed and the Mohamed family made good on their threat to file a lawsuit on Monday.
The complaint alleges that the school district and the city violated Mohamed's civil rights by detaining him for questioning without his parents present.
"These acts by the authorities show blatant disregard for the civil rights of this American," lead attorney Susan Hutchison said in a statement, according to Fox4.
According to the report, the school district denied violating Mohamed's civil rights but otherwise declined to comment, citing the ongoing litigation.  According to the Washington Post, city officials have yet to comment on the allegations.
Have a tip we should know? [email protected]