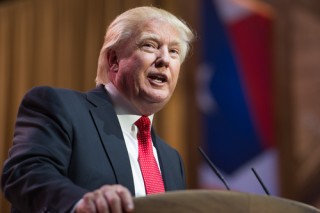 Oops. Someone might get fired over this one. The plane which Donald Trump sometimes uses to jet from campaign event to campaign event has been grounded. It can't fly. Not because of anything mechanical, but because of a serious paperwork problem.  According to records obtained by The New York Times, the Cessna jet has been flying with an expired registration for nearly two months. An FAA official put a stop to this on Wednesday, telling the plane's pilot that the jet is going to have to stay put until it's re-registered.
"F.A.A. inspectors have contacted the chief pilot of N725DT about the aircraft's expired registration. The aircraft's owner is currently working with the F.A.A's Aircraft Registry and will re-register the aircraft before further flight," said FAA spokesperson Laura J. Brown in a statement to The Times.
According to the FAA's website: 
Failure to register an aircraft may result in regulatory and criminal sanctions. The FAA may assess civil penalties up to $27,500. Criminal penalties include fines of up to $250,000 and/or imprisonment for up to three years.
It is not clear if the FAA plans to pursue any further legal action.  Trump has campaign events scheduled in Indiana and Maryland, so he must have caught a ride elsewhere. Not to worry, he also own a Boeing 757-200 which seats 42, and two helicopters.
"The standard renewal process is just about complete," Trump's campaign spokesperson Hope Hicks told The Times.
Have a tip we should know? [email protected]
Rachel Stockman - Editor in Chief / On Air Host