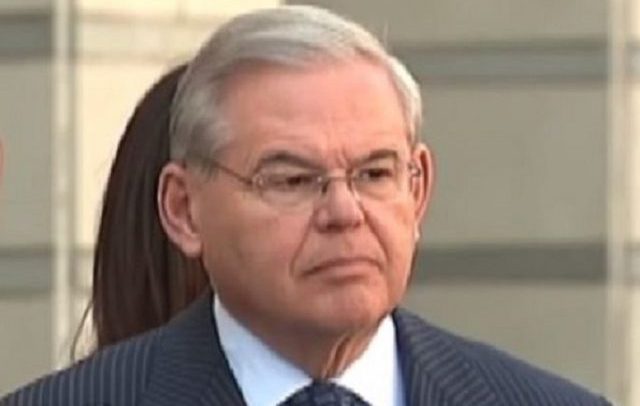 NEWARK, N.J. (AP) — A juror who was excused from the bribery trial of U.S. Sen. Bob Menendez on Thursday said most of the jurors favor acquittal and that she would have cast a not-guilty vote for the New Jersey Democrat on all counts.
Evelyn Arroyo-Maultsby spoke outside the courthouse after the jury was unable to reach a verdict after three full days and part of a fourth. The judge in August approved her leaving by this week because she had a trip planned for a family wedding.
Menendez and Florida eye doctor Salomon Melgen are charged with a bribery scheme in which Melgen allegedly bribed Menendez with trips on his private jet and luxury vacations so Menendez would lobby government officials on his behalf.
"What I saw in the courtroom was he was not guilty on all counts and so was Dr. Melgen," Arroyo-Maultsby said. "They are friends. If I was rich and if I had a lot of money and I want to take my friend somewhere, why can't I?"
She said one juror was pushing strongly for an acquittal and she believes the trial will end with a hung jury.
Arroyo-Maultsby was replaced by an alternate, and jurors will resume deliberations Monday, though the judge said they must start over with the new juror. Alternates sit with the rest of the jury during the trial and hear all evidence and testimony but do not participate in deliberations.
The jury began deliberating late Monday and has put in about 15 hours during three-plus days.
It's unclear what effect Arroyo-Maultsby's comments could have on deliberations. Jurors are instructed by the judge not to read anything about the case or discuss it during the trial, but their actions outside the courtroom aren't monitored.
"They shouldn't know any disclosures by the parting juror, but if they do become aware of it, that potentially taints the deliberations," said Mala Ahuja Harker, a former federal prosecutor in New Jersey.
It is possible the judge could interview each juror individually Monday to see if any had seen reports of Arroyo-Maultsby's comments. Assuming deliberations continue, the introduction of a new juror will shift the dynamic in the jury room, Ahuja Harker said.
She said each jury has a unique dynamic, and injecting a new person changes it. For instance, if there was a dominant voice in the group and others weren't voicing their opinions, adding a new voice could make some jurors more comfortable expressing their opinions, Ahuja Harker said.
Menendez, speaking outside the courthouse, said he has confidence in the replacement juror.
"I have faith that, when the new juror takes her seat on Monday, as I've had faith from the first day of this trial, that she will join with the others in finding us innocent of all the charges,"
The jury is considering a total of 18 counts — both men are charged with conspiracy, violating the Travel Act, three counts of honest services fraud and six counts of bribery. Menendez also is charged with making false statements by omitting Melgen's gifts from his Senate disclosure forms.
Prosecutors contend Melgen made Menendez his "personal senator," available during a seven-year period as needed, such as when Melgen was embroiled in an $8.9 million Medicare billing dispute.
Defense attorneys say the gifts were part of the men's longtime friendship and that Menendez's meetings with government officials were focused on broader policy issues, not specifically on Melgen's problems.
Both men say there was no bribery arrangement. Neither testified during the trial, leaving jurors to rely on emails and witness testimony to assess what their intentions were.
This article was written by David Porter of the AP.
Have a tip we should know? [email protected]