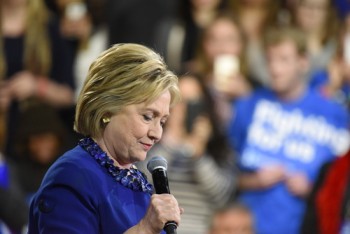 Buried amid news coverage of the damning State Department Inspector General's report is another explosive story that is certain to cause even more headaches for Hillary Clinton.  A retired military advisor to the State Department has come out with claims that Clinton's "sloppy communications with her senior staff" may have compromised counterterrorism operations in the Philippines.
Bill Johnson, the former State Department's advisor to the Special Operations Command Pacific (SOCPAC), made these explosive allegations in an article published late on Wednesday by Newsweek.  The report states "secret plans to eliminate the leader of a Filipino Islamist separatist group and intercept Chinese-made weapons components being smuggled into Iraq were repeatedly foiled."
"I had several missions that went inexplicably wrong, with the targets one step ahead of us," Johnson told Newsweek.
Johnson told the news magazine that after he and his team worked through all known possibilities to stop the leaks, including swapping out the local Filipino forces working with American units.  However, the bad guys still managed to stay a step ahead.  Johnson said another operation that was blown involved a terrorist cell that was buying advanced remote-controlled bomb devices from China.  The terror cell was tipped off an avoided traveling though Bangkok where American agents were waiting to arrest them.
By that time, Johnson said he and his team concluded the source was likely unsecured phone calls between Clinton and her top aides in Washington to overseas embassies, including the U.S. Embassy in Manilla.
"Anyone can just sit outside the embassy and listen," with off-the-shelf eavesdropping devices, Johnson said. "We suspected the leaks [came from] somewhere at State at the time."
Johnson made sure to note that he has no proof the leaks came as a result of Clinton's sloppy communication habits, but he provided very strong circumstantial evidence.
For example, Johnson said that frustration with the leaks led SOCPAC to stop providing the State Department with prior notice about the operations.  Almost immediately after that decision was made, Johnson said missions started going as planned again.  Furthermore, Johnson claimed to have witnessed Clinton's sloppiness first hand in 2010 when she was visiting the Pacific Command HQ.  Johnson told Newsweek that Clinton said she needed to be in contact with Foggy Bottom and requested a waiver that would allow her aides to bring personal phones inside the secure areas.  However, the report says Johnson "refused, citing alarms and lockdowns that would be automatically triggered by any attempt to bring unauthorized signal-emitting units into the building."
To get around the problem, Johnson said Clinton "had her aides go out, retrieve their phones and call the seventh floor from outside" on unsecured lines.
"My relationship with that group started downhill when I refused to let them bring phones and computers into my office [at the Special Operations Command]," Johnson said. "It was really an eye-opener to watch them stand outside using nonsecure comms [communications] and then bring messages to the secretary so she could then conduct a secure [call] with the military" and the State Department.
Johnson's account is supported by other media reports that indicate Clinton continued to use unsecured mobile devices even after she received multiple warnings about the security risks associated with that practice.  The Inspector General report also discussed several warnings that Clinton received about using unsecured devices.
According to the report, Johnson describes himself as an Obama voter who is now supports Bernie Sanders.  He said he is only speaking out now because Clinton continues to refuse to admit wrongdoing.
"I wouldn't be so hard on her if she had simply admitted that what she did was wrong," Johnson said. "But to insist she's done nothing wrong … is beyond the pale."
Clinton spokesman Nick Merrill called Johnson's allegations "patently false."
Have a tip we should know? [email protected]