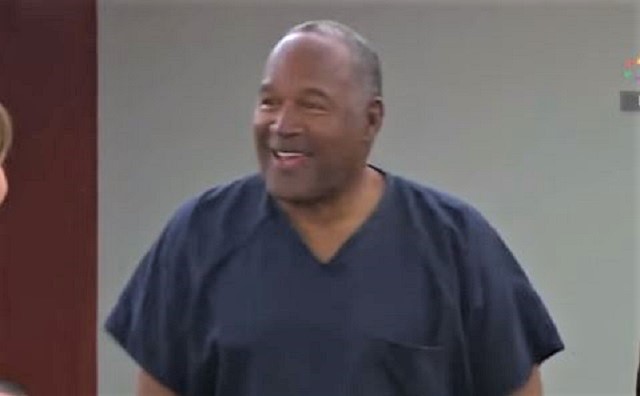 On the eve of O.J. Simpson's highly publicized parole hearing Thursday (which you can watch here at LawNewz.com), legal analysts and media pundits alike have been gauging Simpson's chances of receiving parole for his 2007 sports memorabilia robbery.  This includes memorabilia seller Bruce Fromong a victim of the robbery, and a relative of the late Al Beardsley, another victim. Both men surprisingly endorse Simpson as worthy of parole, according to the New York Post.
"He's [already] done" enough time, Fromong told the Post.  It has been reported that Fromong will be testifying in favor of Simpson's release tomorrow.  "I told the district attorney at the time [of his conviction] that I only thought that O.J. Simpson deserved one to three years in state prison," Fromong told CNN.
A relative of Beardsley told the Post that Beardsley would have gone even further to support Simpson.  "I think [Beardsley] would pick him up at jail," they said.
Simpson was convicted of armed robbery in 2008 after he and a group of men broke into a Palace Station Hotel in Las Vegas, Nevada and stole various sports memorabilia items at gunpoint.  Simpson was sentenced to a prison term of 9 to 33 years with parole eligibility.  After serving his first nine years, his hearing could lead to a release as early as October of this year.
While many have reached the conclusion that Simpson will receive parole Thursday, some have warned that the "O.J. factor" may make a difference during the hearing: his arrest (and subsequent acquittal) for the murders of Nicole Brown Simpson and Ron Goldman is inextricably tied to Simpson's image.
[Image via Screengrab]
Have a tip we should know? [email protected]