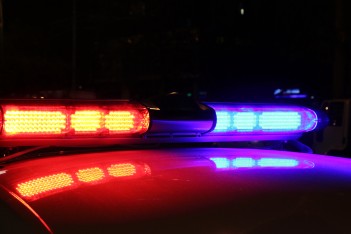 Hours before a planned protest against police brutality on Saturday in Muncie, IN, a pro-police billboard went up near the location of the demonstration with a message some found controversial.
The Star-Press newspaper in Muncie reports the electronic billboard carried a message that read, "Hate cops? The next time you need help call a crackhead."  The billboard was reportedly only visible for a few hours on Saturday.  Local resident Megan Thomas captured an image of the billboard and posted it to Facebook on Saturday just after 1:00 PM.
In her post accompanying the picture, Thomas calls the sign"outrageously offensive and covertly racist."  She told the newspaper that when she drove back past the sign later that evening, the pro-police message was no longer visible.
The newspaper also spoke with the owner of liquor store who owns the property where the sign is located. The owner, Chris Johnson, said a store clerk called him on Saturday after customers came in and complained about the sign.  Johnson said he does not control the advertisements on the sign, but he did call the advertising company to inform them about the complaints.  He said the advertising company told him the sign would immediately be reworded.
"This is not us, this is not our mentality, this is not how we feel," Johnson said after explaining his fear that people would associate the sign with his store.
According to the report, Muncie Police Sgt. Chris Kirby also said the store had nothing to do with the sign, nor did the police department or the local police union.
While it remains unclear who actually paid for the sign, by Monday afternoon, the newspaper says some messages in support of police had returned to the sign's advertisement rotation.  One read, "Love, Respect, Support Law Enforcement," and a second message said, "Love, Support, Support Law Enforcement."
Have a tip we should know? [email protected]