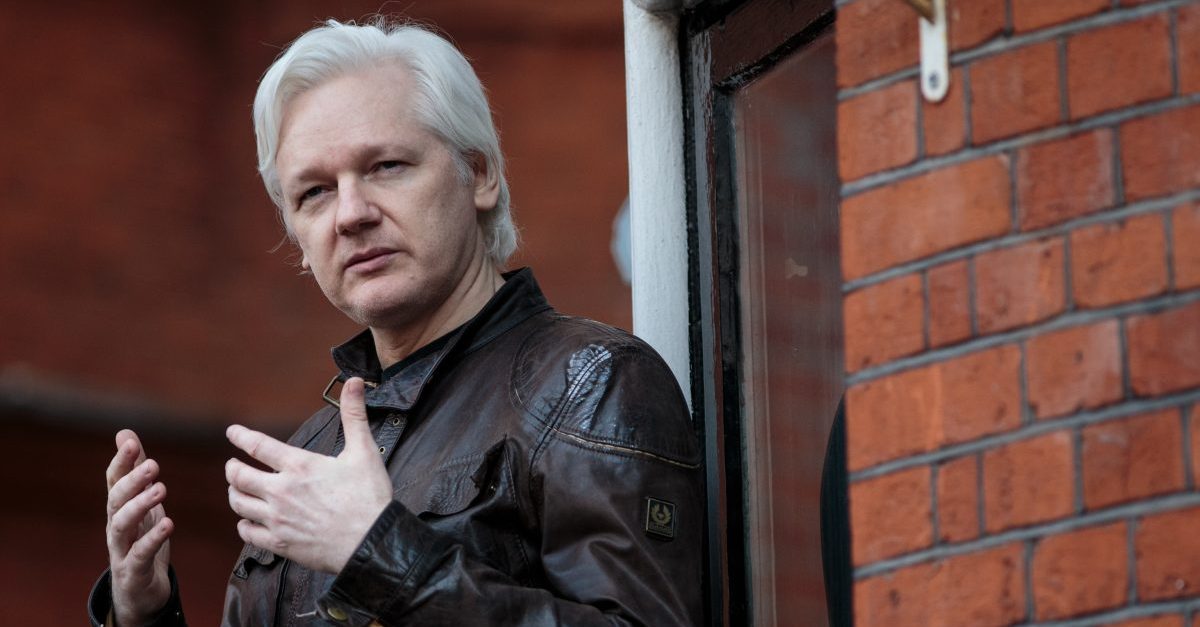 WikiLeaks founder Julian Assange may be sent to the United States, courtesy of Ecuador, according to Reuters. The South American country has been letting Assange stay at their embassy in London for years, but he reportedly said on Monday that they're going to extradite him.
This could mean several things for Assange, who is known for releasing sensitive material through WikiLeaks. The U.S. Department of Justice has reportedly considered charging him for releasing stolen classified information. One thing working in Assange's favor is that he possesses crucial information regarding Russian interference in the 2016 presidential election and hacked emails that WikiLeaks published. If anyone connected to President Donald Trump or his campaign was involved in the hacking or publishing, Assange would know it, and he would know who it was. Trump associate Roger Stone had reportedly claimed to have been in touch with Assange, but he later denied that this actually happened.
If Assange does find himself in the hands of American authorities, Special Counsel Robert Mueller could try to work out a deal whereby Assange gives Mueller information in exchange for leniency for his role in leaks of classified information.
As CNN legal analyst and attorney Ross Garber noted, Assange could also provide evidence regarding specific Russian individuals he may have dealt with as well.
If true he may be looking to cut a deal with Mueller in which he provides info about interactions with both Russian agents and US citizens. https://t.co/Rzf1hLqphN

— Ross Garber (@rossgarber) October 29, 2018
The leaked Democratic emails were only some of the materials WikiLeaks has published over the years. Assange drew notoriety for releasing military documents leaked by Chelsea Manning.
The Senate Intel Committee has also said they want to interview Assange about Russia, and WikiLeaks' legal team even said they were considering it in August of this year.
This development could theoretically blow the Russia investigation wide open. Alternatively, Assange may decide to press his luck, as the Justice Department said in 2013 that it would be difficult to bring a case against Assange, since he is only known to have published classified materials that other people leaked to him. Charges for such acts would risk running afoul of longstanding legal precedent that allows journalists to publish classified information that is leaked to them. The Trump Administration may feel differently though, and may have a different legal strategy for possibly prosecuting Assange.
Ronn Blitzer is the Senior Legal Editor of Law&Crime and a former New York City prosecutor. Follow him on Twitter @RonnBlitzer.
[Image via Jack Taylor/Getty Images]
Have a tip we should know? [email protected]