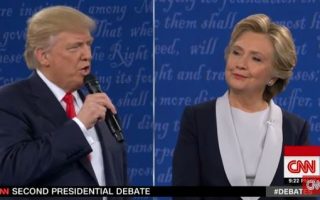 In recent months, President-Elect Donald Trump has made bold claims regarding Hillary Clinton's email scandal. He's said if he was President, he would prosecute her for allegedly handling classified information on a private server while she was Secretary of State. Now that Trump will indeed take office in January, it's unclear whether he intends to follow through on this.
Back in February, Trump touched on the issue in an interview with Sean Hannity, and he addressed it much more delicately than he did in the later days of his campaign. Far from saying he was going to "lock her up," as his supporters later chanted at rallies, Trump did say that Clinton was being "protected." He said that Clinton "seems to be guilty," and that if he wins the presidency, he would "look at" Clinton's case.
Watch at the 38:30 mark:

By the time the debates rolled around in October, Trump had significantly ramped up his fervor against Clinton and her email scandal, flat out saying he would have a federal prosecutor on the case. "If I win,I am going to instruct my attorney general to get a special prosecutor to look into your situation." Trump soon after commented that if he was running things, Clinton would "be in jail."
So the important question is, will he actually go forward with this?
After the election, Trump campaign manager Kellyanne Conway played coy with CNN when asked whether the next President still intends to follow through on this. "We didn't discuss that last night, and he didn't discuss it with Hillary Clinton on the phone," Conway said.
That may sound like the ultimate non-answer, but it could very well indicate that Trump isn't as eager to go after his former opponent as he led people to believe.
Have a tip we should know? [email protected]