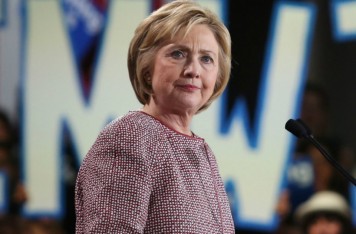 As the reality of Donald Trump winning the presidency began to set in last night, many in the media began panicking that his victory may spell new trouble for Hillary Clinton over her use of a private email server.  As you may recall, Trump promised during the second debate to appoint a special prosecutor to investigate her email "situation" and suggested she would be in jail if he was president.  Much has been made of those remarks by Trump's critics, with some even accusing him of acting like a Third World dictator who jails political opponents.
Such comparisons are rather absurd.  As I've said before, there is good reason to believe a proper investigation into Clinton's emails issues would lead to criminal charges.  For example, a strong case can be made that Clinton should at least be charged with misdemeanor mishandling of classified material.  Just last week, newly released State Department emails show Clinton shared classified information with her daughter, who has no government security clearance.  There is also evidence that she lied to Congress about the private email server during her testimony before the Benghazi Select Committee.
However, as hard as it is to say, I believe Trump would be very wise to move on from the email issue now that he has won the presidential election.  Putting that issue behind us once and for all would serve as evidence of a good faith effort on Trump's behalf to begin starting to repair some of divisions between the right and left in this country after a contentious election campaign.
There is no question that FBI James Comey left a lot to be desired with his investigation into Clinton's use of a private email server and mishandling of classified information.  A great deal of the evidence that has come out since Comey's announcement in July has even further called into question his decision to let her off the hook.  More and more it appears as though Comey went into the investigation looking for a way to clear Clinton, rather than to develop a prosecutable case against her.  The decision to provide immunity agreements to several of Clinton's top aides who likely had the most knowledge about any illegal conduct surrounding the use of the server supports the conclusion that Comey and Department of Justice never intended to prosecute Clinton.
The investigation was further clouded by the infamous tarmac rendezvous between former President Bill Clinton and Attorney General Loretta Lynch.  The more than 30 minute private meeting took place just days before Hillary Clinton was interviewed for the first time by FBI agents and was ultimately cleared by the FBI Director.  Regardless of what Lynch and the former president actually spoke about, the meeting screamed conflict of interest and served as example of what many people hate most about Washington, D.C. — the appearance of special treatment for insiders.
Despite of all of these very serious issues surrounding the investigation, it is no longer worth it for soon-to-be President Trump and his Justice Department to continue a probe related to Clinton's email conduct.  No matter how justified it may be, further investigation into the email issue needlessly gives critics ammunition to make claims about political retribution.  This is especially true considering Director Comey's decision to "clear" Clinton again last Sunday.
Assuming additional truly incriminating emails do not show up somewhere down the line, the rejection of Hillary Clinton at the ballot box on Tuesday by the American people should serve as sufficient punishment for her conduct.  It is probably now safe to assume her shocking defeat on Election Day marks the end of Bill and Hillary Clinton's time running for elected public office.  Hillary, especially, will now have to live with the fact that her penchant secrecy and lying to the American people cost her a chance to serve as leader of the free world.  Living her remaining years with that hanging around her neck is far worse than any criminal punishment she could realistically receive over the email issue.
In the end, the voters came through and gave Clinton exactly what she deserves.
This is an opinion piece. The views expressed in this article are those of the author. 
[image via Krista Kennell/shutterstock]
This is an opinion piece. The views expressed in this article are those of just the author.