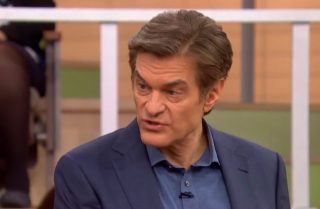 Back in May, television personality Dr. Mehmet Oz hosted a segment on his nationally syndicated show devoted to olive oil. In it, he spoke to a supposed expert in the subject about whether or not inexpensive olive oil sold in stores was genuine. The guest instructed customers to purchase domestic olive oil, because those are held to "strict standards," particularly those from California. Now, olive oil importers are suing, over the claims that their products may not be legit.
They filed their complaint in a state court in Georgia, which happens to have a statute just for this sort of thing. Under Section 2-16-3 of the Georgia Code, "Any person who produces, markets, or sells a perishable food product or commodity and suffers damage as a result of another person's disparagement of such perishable food products or commodities" can sue under a claim for what's commonly referred to as "food libel."
The North American Olive Oil Association, a trade association, claims that statements that Oz made during the episode, titled "Food Truth: What's Really in Your Pancake Syrup," were false and put sales of imported olive oil at risk. According to court documents, the show's guest, Maia Hirschbein, was introduced as a "certified oleologist," but works for the California Olive Ranch, a private olive oil manufacturer and seller. "At no point in the show did any person disclose Ms. Hirschbein's vested interest in denigrating olive oils originating outside of California or her vested interest in promoting California olive oils," the complaint says.
The lawsuit, obtained by LawNewz.com, notes that Dr. Oz said on the show that "80% of the extra virgin olive oil that you buy every day in your supermarket isn't the real deal. It may even be fake." The NAOOA countered this by saying that roughly 95 percent of oils that they took from store shelves and tested between 2013 and 2015 "meet or exceed IOC [International Olive Council] quality and purity standards." The ones that failed "represent less than two percent" of the U.S. retail market.
The NAOOA claims that the segment was damaging to them and their members, as it "has been widely republished on the Internet" and was featured in news coverage. They allege that Dr. Oz "willfully and maliciously disseminated … false information about olive oil coming from places other than California," and that the information was "not based on reasonable or reliable scientific inquiry, facts, or data."
The NAOOA's attorney, Michael P. Kohler, had no comment on the case. A representative from The Dr. Oz Show told LawNewz.com in a statement:
The Dr. Oz Show plans to aggressively defend the story which was covered by numerous other reputable news organizations including CBS News' 60 Minutes, The New York Times and Time Magazine. We intend to refute the allegations, some of which stem from the discredited and constitutionally questionable veggie libel statute.
NAOOA v Dr Oz by LawNewz on Scribd
[Image via screengrab]
Have a tip we should know? [email protected]