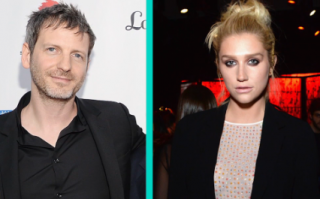 Multiplatinum record producer Lukasz Gottwald, better known by his medical moniker, Dr. Luke, is denying reports that his contract with Sony Music will be terminated over a tense and widely publicized court battle with pop star and former collaborator, Kesha.
This is just the latest rumor in a string of strange developments. After Kesha accused the producer of sexually assaulting her when she was 18, a judge denied the "Tik Tok" singer's request for a preliminary injunction suspending her contract with Sony Records. Next came public outcry and an outpouring of public support, including a $250,000 donation from fellow pop star and teen icon, Taylor Swift, and caring tweets from Demi Lovato, Ariana Grande, JoJo, Lily Allen, Sara Bareilles and Lady Gaga.
Then it was Dr. Luke's turn, and the producer unleashed a barrage of tweets—because, what else—denying Kesha's  allegations. He began by stating that the matter "should be resolved in court not here on Twitter," but proceeded to post an additional 20 tweets denying the singer's claims. That's when Sony Music chimed in. Sony's attorney, Scott Edelman told The New York Times that "Sony has made it possible for Kesha to record without any connection, involvement, or interaction with Luke whatsoever, but Sony is not in a position to terminate the contractual relationship between Luke and Kesha."
Then, another bombshell: Kesha never filed a police report accusing Dr. Luke of sexually assaulting her. The lack of a police report by Kesha will likely be a key point in Dr. Luke's defense in the singer's civil suit. And, in fact, Justice Shirley Kornreich during a recent hearing appeared concerned about Kesha's lack of documentation of her alleged abuse, saying, "I've read feet, feet of papers. There is not one piece of paper from a doctor saying this. But that's besides the point. Even though you claim [Kesha] has all kinds of physical problems, trauma — nothing, under seal or otherwise. There are no hospital records. There is nothing here." 
So, now we're caught up. And here's the latest: the Wrap reported Wednesday that Sony is expected to part ways with Gottwald in response to months of public pressure as the contentious legal clash continues.
"This is not true. Luke has an excellent relationship with Sony. His representatives are in regular contact with executives at the highest levels at Sony and this has never come up," Christine Lepera, the producer's attorney, said in a statement to the L.A. Times.
Singer Kelly Clarkson, for whom Dr. Luke produced "Since U Been Gone," chimed in on Monday telling Australia's KIIS 1065, "He's a talented dude, but he just lied a lot. I've run into a couple really bad situations. Musically, it's been really hard for me because he will just lie to people. It's like 'What?' It makes the artist look bad. He's difficult to work with, kind of demeaning, it's kind of unfortunate."
Kesha, whose full name is Kesha Rose Sebert, filed the suit in Los Angeles County Superior Court alleging years of abuse that resulted in an eating disorder and a stint in rehab.
Gottwald's contract with Sony isn't set to expire for another year, according to The Wrap.
[h/t LATimes]
Have a tip we should know? [email protected]