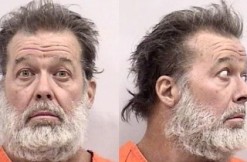 Robert Dear allegedly shot up a Planned Parenthood clinic in November, but the massacre resulted in more than just his criminal trial. The Colorado Supreme Court ruled Wednesday that a local judge has to explain why he kept Dear's court records sealed.
A coalition of media outlets (including The Associated Press) filed a motion in December, asking a judge in El Paso County, Colorado for Dear's arrest affidavit. If successful, the motion would have made it available to the public. A basic but important move since it'd contain the probable cause for his Nov. 27 arrest.
Dear, 57, faces a small army of charges. 179 counts in total. At top are three counts of first-degree murder. The victims: police officer, Garrett Swasey, 44; Army veteran Ke'Arre M. Stewart, 29; and Jennifer Markovsky, 35, mother of two. Dear is also accused of wounding nine others.
But Colorado Judge Gilbert Martinez denied the media coalition's motion to unseal the affidavit and other court records on Dec. 30. He ruled that unsealing was "contrary to public interest" since the investigation was ongoing, according to The Gazette.
The media coalition wouldn't accept this, and petitioned the Colorado Supreme Court to reverse that decision.
"The press and public have serious questions about why 179 counts have been filed," Steve Zansberg, attorney for the coalition, told LawNewz. He said judges are required by the First Amendment to show there is compelling interest to seal any document. Also, a judge should make sure "there is no less restrictive means to protect that interest," like redaction. "The judge [Martinez] made no such findings here."
The coalition accepts that sensitive details would be redacted since the investigation is ongoing. But they don't understand why Martinez would keep everything outright sealed. "The principle is the public has a right to observe judicial proceedings under the First Amendment and to review documents on file in a court of law," said Zansberg.
This process might take a while. As soon as Martinez answers the Colorado Supreme Court's order, the coalition will get 20 days to reply.
[h/t The Gazette, who disclosed they are part of the media coalition; image via Colorado Springs Police]
–
>> Follow Alberto Luperon on Twitter (@Alberto Luperon)
Have a tip we should know? [email protected]