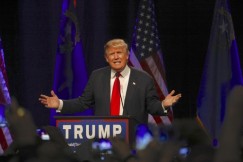 In Thursday night's Republican presidential debate, Donald Trump indicated he might order the U.S. military to break the law on interrogation tactics including waterboarding. Now, the Republican presidential frontrunner is singing a different tune.
On Friday, Trump changed course in a statement to the Wall Street Journal. "I do, however, understand that the United States is bound by laws and treaties and I will not order our military or other officials to violate those laws and will seek their advice on such matters." He continued, "I will not order a military officer to disobey the law. It is clear that as president I will be bound by laws just like all Americans and I will meet those responsibilities."
This comes on the heels of Trump's statements during last night's debate. When asked what he would do if the U.S. military refused to carry out such orders, Trump said, "They won't refuse. They're not going to refuse me. Believe me."
It's been a few weeks since Donald Trump made his remarks on torture at a rally in South Carolina. Trump told a South Carolina crowd, "torture works." When asked what his thoughts were on torture, he said, "Absolutely fine, but we should go much stronger than waterboarding." At the time of his statement, the billionaire business man's pronouncements packed an international punch and a sharp rebuke from military and legal experts who surmised Trump's torture policies would violate the Geneva Convention.
Trump's new statement show he's softened his stance, saying he would not order the U.S. military to torture terrorism suspects in violation of international laws and treaties.
The U.S. is a signatory to the United Nations Convention Against Torture (CAT), a treaty signed and ratified in 1994. Signatories to CAT are subject to the explicit prohibition against torture and severe pain, which are reflected statutorily in § 18 U.S.C. 2340. Article 2.2 of the CAT states, stringently, "[n]o exceptional circumstances whatsoever, whether a state of war or a threat of war, internal political instability or any other public emergency, may be invoked as a justification of torture."
Article five of the Universal Declaration of Human Rights (UDHR), which many legal scholars believe forms a part of customary international law, or recognized norms, states, "no one shall be subjected to torture or to cruel, inhuman, or degrading treatment or punishment."
In 2008, Steven G. Bradbury, the acting head of the U.S. Department of Justice (DOJ) Office of Legal Counsel, testified: "[t]here has been no determination by the Justice Department that the use of waterboarding, under any circumstances, would be lawful under current law." Further, the War Crimes Act of 1996 prohibits torture or inhumane treatment and allows for criminal liability and the prosecution of offenders.
Here are his original remarks from a February 17th rally in  South Carolina:

[h/t WSJ]
Have a tip we should know? [email protected]