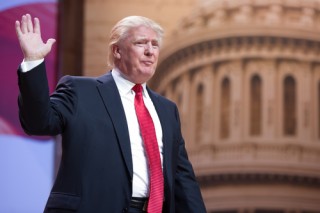 The drama involving the Trump University case in California continues. A group of former students sued the University and Donald Trump for basically hoodwinking them out of a lot of cash.  The former students' attorneys moved to submit clips from video depositions of Donald Trump as part of their public filing. On Monday, Trump's attorneys fired back in a response saying including the video as part of the court docket is "unnecessary, irrelevant, and unjustified." They contend that written transcripts have already been submitted to the judge (and released publicly) and there is no need to submit the video as well.
Trump's attorneys write:
Plaintiff's sole justification for doing so here is his assertion that the video of Mr. Trump's deposition contains "many spontaneous and ad hominem remarks that are not reflected in the paper transcript." Plaintiff's purposed reason for offering the veto as an exhibit is wholly insufficient given that a witness's credibility is irrelevant at summary judgement.
The depositions, taken on December 10 and January 21, consist of testimony from Trump in which he answers questions about how the school was run. The depositions are taken under oath, so Trump must speak truthfully.
On Friday, attorneys for all of the major news outlets (except for Fox News) filed a motion to intervene. The media organizations are seeking to make public the videotaped depositions of Trump as a matter of the "public's right to know." Trump has yet to respond the media's motion.
The former students' attorneys are attempting to submit the video depositions as part of their opposition to Trump's motion for summary judgement.  Stay with LawNewz.com for the latest developments on this case
Have a tip we should know? [email protected]
Rachel Stockman - President / On Air Host