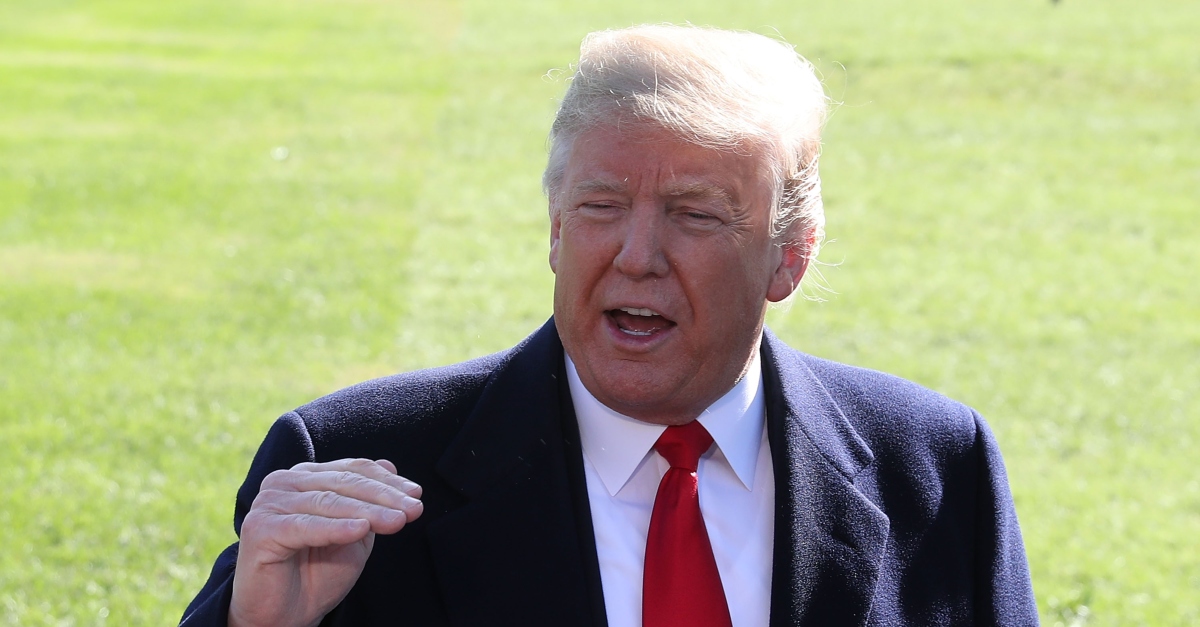 President Donald Trump's attorney Rudy Giuliani, fully aware that Special Counsel Robert Mueller is going to detail the lies Paul Manafort allegedly told investigators in breach of his cooperation agreement, has attempted to get out in front of that report by disputing what would be a pretty key lie.
Giuliani's client President Trump has in recent days lamented the special counsel trying to execute "perjury traps" or corner people into lying. Well, Giuliani has gone to CNN to say that one of the questions Mueller doesn't believe Manafort gave a truthful answer to dealt with Trump's knowledge of the 2016 meeting at Trump Tower with a Russian lawyer for "dirt" on Hillary Clinton.
As Law&Crime has noted before, Manafort is largely seen as the central figure when it comes to getting to the bottom of the collusion question, given his Ukrainian lobbying connections, his time as Trump's campaign chairman, and his presence during key moments of interest for the special counsel — such as the 2016 Trump Tower meeting involving Donald Trump Jr., Trump's son-in-law Jared Kushner, and others connected to Trump and the campaign.
Here's what Giuliani said Manafort's attorneys told him:
According to Giuliani, investigators told Manafort they don't believe that the President did not know about the 2016 Trump Tower meeting that Manafort attended with Donald Trump Jr., Jared Kushner and a Russian attorney who had promised dirt on Democratic presidential candidate Hillary Clinton.

Giuliani, who received this information from Manafort's attorneys, accused Mueller's team of crossing the line by trying to force Manafort to say Trump knew about the meeting.

"They repeated that conduct over and over and over again which gives us a clear indication of what they want him to say in order to get him out of solitary confinement. I find that abominable," said Giuliani.  Giuliani said he only has limited insight into what Manafort told Mueller. Manafort's lawyers only share with Trump's team information that relates to the President.
In other words, Giuliani claims that Team Mueller believes Manafort lied about his knowledge of Trump's knowledge of that meeting. Giuliani maintains that Mueller and his team have been strong-arming people under investigation into telling lies. Trump has indicated that he believes right-wing conspiracy theorist Jerome Corsi, who has claimed that Mueller has tried to get him to lie. Trump has also claimed this in the context of Paul Manafort.
What Trump said of Mueller: "They have found no collusion and have gone absolutely nuts. They are screaming and shouting at people, horribly threatening them to come up with the answers they want."
Underlying all of this is that if Mueller has a real reason to believe that Manafort lied about this specific issue,  then it stands to reason that Mueller has evidence of this. That is supported by the fact that Mueller announced Manafort's breach of his cooperation agreement and that he plans on backing that up with evidence. His office didn't comment on the CNN story.
Trump has flat-out denied that he knew about the meeting.
The flip-side of this is that Giuliani simply isn't telling the truth about what Mueller is alleging to create a distraction. The president and his team do seem pretty worried, though.
We shall see if Mueller's filing provides more clarity on this line of questioning.
If true, Giuliani's shenanigans with Manafort's lawyers will completely backfire, because now Mueller will present the evidence of Trump's knowledge of the Trump Tower meeting to a federal judge who will rule as to whether Manafort lied. https://t.co/wROLTQkkql

— Renato Mariotti (@renato_mariotti) December 7, 2018
It's worth pointing out that questions about what Trump knew of the Trump Tower meeting really started with his former lawyer Michael Cohen. Cohen pleaded guilty last week to lying to congressional investigators to be "loyal" to Trump and consistent with Trump's political message.
[Image via Mark Wilson/Getty Images]
Have a tip we should know? [email protected]