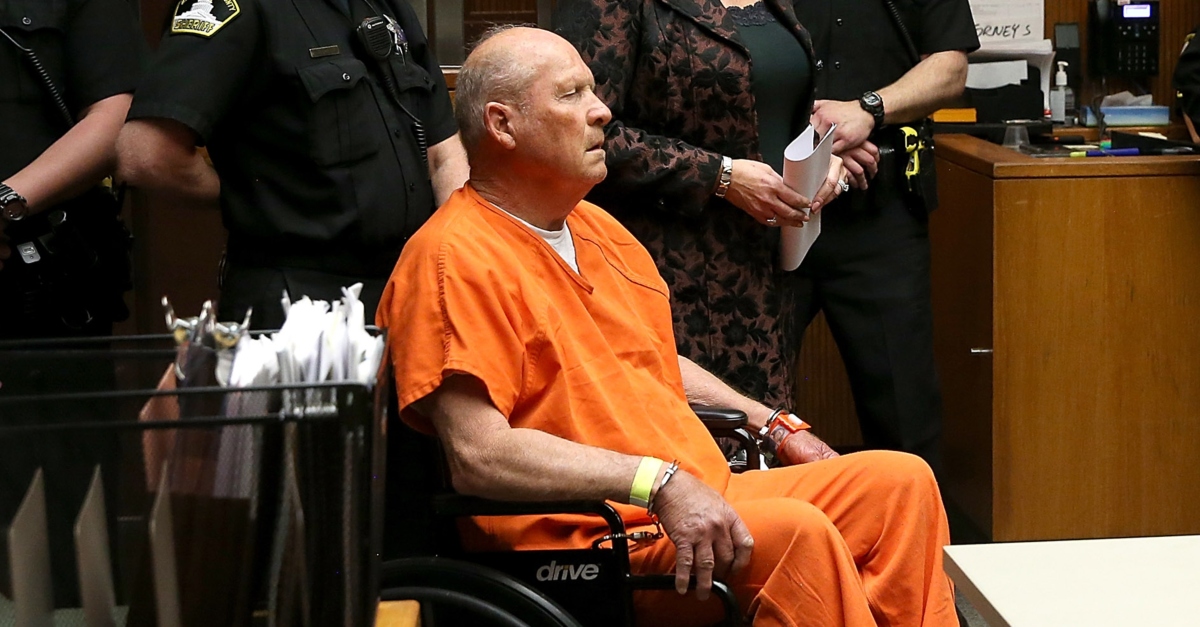 Alleged "Golden State Killer" Joseph James DeAngelo was cleared Tuesday in the Dec. 26, 1975 murder of a 14-year-old girl, according to prosecutors in a Los Angeles Times report. Authorities say he's the man who committed 13 murders and dozens of rapes from 1974 to 1986 in California. Nonetheless, DNA evidence exculpated him from the kidnapping, attempted rape, and murder of Donna Jo Richmond.
Investigators determined that Oscar Clifton, the sexual offender convicted in the crime, actually committed it. His DNA profile was consistent with the suspect's partial profile developed from semen discovered on the victim. DeAngelo's DNA didn't match.
Authorities cited other evidence. Clifton's invoice book was discovered by the victim's bike. Richmond's clothes were found on the road to Clifton's residence. Authorities said the crime was also consistent with Clifton's previous behavior: he had been convicted for exposing himself to a woman, and of making sexual statements to another 14-year-old girl.
"I am again confident, just as this office was the previous times we reviewed the case, that the countless hours of report analysis, evidence evaluation, court transcripts, and DNA evaluation solidifies that Oscar Clifton tragically and violently ended the life of Donna Jo Richmond in an orange grove the day after Christmas in 1975," Tulare County District Attorney Tim Ward said in a statement obtained by the Times.
Clifton died in prison in 2013. He insisted on his innocence. Authorities reviewed his conviction after DeAngelo's arrest. Some suspected that the alleged "Golden State Killer" could have been behind Richmond's death. The semen sample was deemed inconclusive, and the case against Clifton was reportedly circumstantial. Prosecutors in his trial allegedly failed to turn over all the evidence, and cops destroyed the physical evidence the year after his conviction, The Sacramento Bee reported last year.
The development is kind of ironic for DeAngelo. DNA evidence and a match with a genealogical database led authorities to his relatives, and this in turn linked him to the murders and rapes attributed to the Golden State Killer, investigators said. The search for the killer actually led to a 73-year-old man in a nursing home, according to documents obtained last year by The Associated Press. Testing eliminated him as a suspect, but that development, and the nature of DeAngelo's arrest, sparked concerns about privacy rights.
[Image via Justin Sullivan/Getty Images]
Have a tip we should know? [email protected]