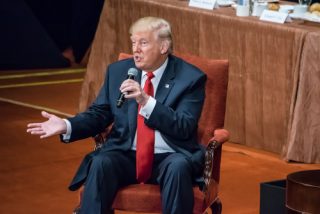 Remember American Horizons PAC? The committee advertised a 'Dinner with Donald' in July, prompting Trump's lawyers to send a cease-and-desist letter about the fundraiser, accusing the committee of defrauding its donors.
A harsh reprimand from the group's preferred candidate wasn't enough to shut the shop down, however.  (Though it did put the kibosh on the dinner fundraiser.) In fact, it has raised more money than ever.
American Horizons reported raising about $1 million since it started in June, with 75 percent of that coming in just the last three months. How much was spent backing the Republican candidate? A whopping $12,000 for "online voter contact."
So where has all that cash been going? In the last quarter, $350,000 went to Cartsoft LLC, an Internet payment software company that was founded by the PAC's treasurer, Ian Hawes. In total, Cartsoft has received almost half of the PAC's total expenditures — about $525,000 out of $1 million.
"I'm not the only person that has vendors that are partially owned by the people involved in the PAC," Hawes said. "We're not the first people to do that and we're not doing that illegally. I do understand the optics of it."
Hawes declined to tell OpenSecrets how much he made from the venture, but said it hasn't been worth it after POLITICO profiled the PAC.
"Having my name run through the mud by the media, there's no amount of money that you could give me to counter the damage done to my reputation," Hawes said. "This is my first time getting involved in politics and it will definitely be the last."
Most of those funds — labeled as going for "campaign strategy consulting," "media purchasing" and "software development" — were used in connection with a new app CartSoft is developing that will allow users to report suspicious activity at the polls on Election Day, such as long lines or anything "fishy," Hawes said. The plan is to relay any evidence to the media.
"This is not in response to Mr. Trump's allegations that the elections are being rigged, but more in line of, 'What can this PAC do instead of raise money and begin to clear my name?'" Hawes said. "That's a greater good than just collecting more money."
The rest of American Horizons' expenditures went back into fundraising and for Google and Facebook advertising to direct users to its site; another $43,000 was paid to process donations via credit card.
The group also issued about $33,000 in refunds. Last August, POLITICO contacted dozens of donors to the group, and many felt taken advantage of because they thought they were donating directly to Trump's campaign as the websites looked so similar. (Donaldjtrump.com versus dinnerwithtrump.org.) Hawes says that American Horizons' website was live before the campaign's.
The FEC has taken up the issue of scam PACs, or groups that confuse donors into thinking they are donating to a candidate, often only filling the pockets of consultants and vendors connected to the PAC. The commission is discussing ways to help donors learn more about the political committees that hit them up for funds to avoid cases of fraud.
"To be completely honest with you, I wasn't aware that cottage industry even existed and it wasn't my intention to deceive anyone," Hawes said. "I want to help the FEC develop rules and help fight scam PACs in the future. I have reached out but haven't gotten a response."
Ashley Balcerzak is the money-in-politics reporter for OpenSecrets Blog.
[image via shutterstock]
Have a tip we should know? [email protected]