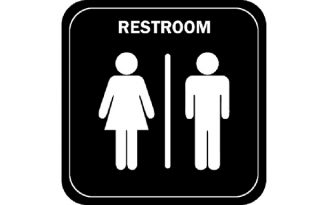 In August, a federal judge ruled against the Obama administration's directive that instructed public schools to allow students to use whichever restroom or locker room they preferred, based on their gender identity. The case was brought by 13 states against the federal government, and the ruling was a preliminary injunction that blocked the government from enforcing their guidelines in any state while the case was still going on. On Tuesday, Judge Reed O'Connor handed down an order that mostly kept the injunction, while making certain clarifications.
The U.S. Department of Justice had argued that the court's ruling that barred enforcement of the bathroom directive should be limited to Texas and the other 12 states that brought the lawsuit. According to court documents, the government believes that they "have a right to rely on the Guidelines in litigation before other courts that have agreed with their interpretation of sex in Title VII and IX to mean gender identity." Nevertheless, Judge O'Connor maintained that a U.S. District Court's power "extends across the country," and held that keeping the nationwide restriction was necessary in this case.
Still, the court clarified its August order, saying that it only prevents the government from using the directive to argue that "sex" also includes gender identity when it comes to restrooms, locker rooms, and other "intimate facilities." The injunction, Judge O'Connor wrote, "does not affect a school's obligation to investigate and remedy student complaints of sexual harassment, sex stereotyping, and bullying." The injunction is not meant to alter the government's legal ability to exercise "duties necessary to protect the rights of individuals alleging discrimination." It also does not affect government programs dealing with discrimination based on race, national origin, or disability.
The court also stated in a footnote that the injunction does not apply in related cases brought against the federal government regarding intimate facilities that were already "substantially developed" before the August ruling. However, in cases where there had not been any substantive ruling and no responsive pleadings were filed before August 21, the injunction still applies.
The case, State of Texas, et al v. United States, is still going on, with both sides ordered to file additional briefs by the end of October.
Texas v USA by LawNewz on Scribd
[Image via Shutterstock]
Have a tip we should know? [email protected]