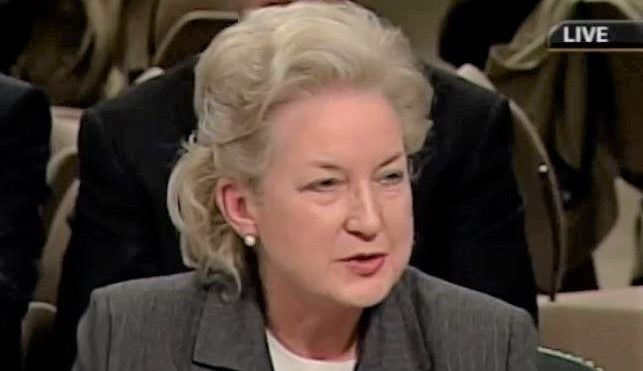 President Donald Trump has been known by the American public for decades. First as an outspoken New York real estate tycoon, later as a reality TV star, and now as Commander-in-Chief. But despite his occasional disdain for the legal system, his sister Maryanne Trump Barry is actually a prestigious federal judge with the Third Circuit Court of Appeals.
Judge Barry, a graduate of Hofstra Law School, began her career as a federal prosecutor in New Jersey, before President Ronald Reagan appointed her as a U.S. District Judge there. In 1999, she began her current role on the Third Circuit bench, after being appointed by President Bill Clinton.
In addition to sharing a family, not to mention a penchant for well-kept hair, Judge Barry and President Trump also seem to share a distaste for political correctness, particularly when it comes to how men interact with women. Judge Barry got some backlash for remarks she made about sexual harassment to the Interagency Committee on Women in Law Enforcement. "I stand second to none in condemning sexual harassment of women," she insisted. "But what is happening is that every sexy joke of long ago, every flirtation, is being recalled by some women and revised and re-evaluated as sexual harassment. Many of these accusations are, in anybody's book, frivolous." Judge Barry claimed that such "frivolous" claims of harassment eliminate "any kind of playfulness and banter" between men and women. "Where has the laughter gone?" she asked.
Despite some similarities, however, Judge Barry does not share the same political views that the President has espoused in recent years. While President Trump has been touting himself as pro-life, Judge Barry has drawn criticism from the right for ruling in favor of abortion rights. Trump's former rival Senator Ted Cruz even called her a "radical pro-abortion extremist." In reality, her stance on abortion isn't as controversial as that, being that the source of her opponents' ire is a case where she voted against a New Jersey law that would ban "partial-birth" abortion because it was so vague that Barry felt it could be used to bar almost any abortion.
President Trump had once commented in jest that his sister would be a "phenomenal" Supreme Court justice. While this may be true, Judge Barry's record does not appear to be as conservative as the jurists currently rumored to be on the President's short list.
Have a tip we should know? [email protected]