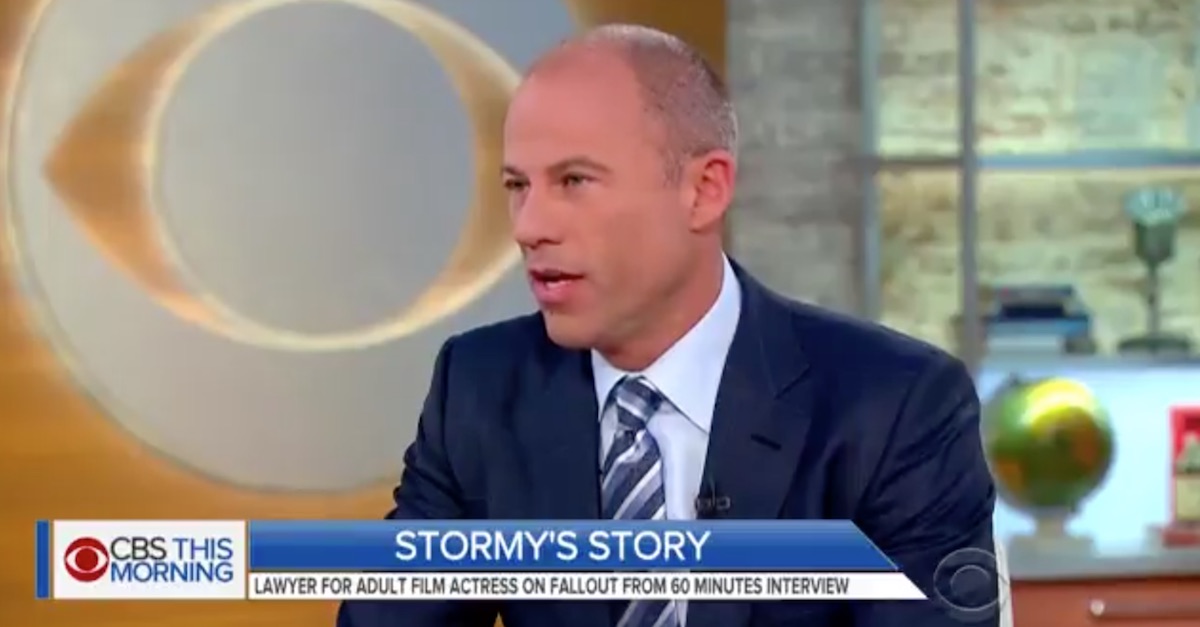 Stormy Daniels' lawyer — Michael Avenatti — continues to put his client at risk of a large judgment, and even worse, at risk for criminal charges, for either her or him. Two minutes of fame can be very expensive.
What crimes might apply? Has Avenatti committed potential malpractice? California law likely governs any issues in the case as Avenatti himself has acknowledged California law governs in his own Daniels' lawsuit.
Avenatti himself took key actions in the case. First, he chose to file the suit that disclosed confidential information publicly, rather than under seal, in his suit to set aside the non-disclosure confidentiality agreement. By doing so, Avenatti exposed his client to a $20M judgment.
Courts across the country have found this alone can be grounds for summary judgment. As one court noted: "The act that most troubled the trial court was Cross's filing of the complaint not under seal in the present case. The trial court deemed it "an open, egregious and notorious breach of a material provision of the [confidentiality] agreement." Avenatti could have tried to set aside the agreement without his client risking a massive judgment against her by simply filing his suit under seal; he chose not to. Did he advise his client filing the suit publicly could result in a $20M judgment against her?
Over the past week, Avenatti went further, apparently on behalf of his client, tweeting out an image of a video disc, claiming it contained evidence substantiating an affair, and labeling it a "warning shot" according to the press.
If "a picture is worth a thousand words," how many words is this worth?????#60minutes #pleasedenyit #basta pic.twitter.com/eCkU0JBZaR

— Michael Avenatti (@MichaelAvenatti) March 23, 2018
Many interpreted the DVD to be a sex tape. At this point, he has not clarified what it contained, but for Avenatti's and Daniels' sake, it better not be a tape, because that's where criminal issues would come into play.
The first potential crime is the illegal recording of Donald Trump, which Avenatti's DVD tweet was widely interpreted to mean.  We still don't know what it contains but if it is a recording of Trump, its mere existence can be prosecuted as a crime in California. California law strictly forbids someone from taping another without their knowledge or consent. California Penal Code section 632 criminalizes any person who "without the consent of all parties" records their activity. California Penal Code 637.2 specifically authorizes a private suit, with a treble-damages award. All that is required is for the injured party to show they did not consent and that they had a "reasonable expectation" no recording was taking place. Ask the Gawker jury how jurors feel about the disclosure of private tapes.
The second potential crime would be if the tape shows sexual activity. California Penal Code 647(j) makes secretly recording sexual activity a crime, labelling it an "invasion of privacy." Here, too, Avenatti led many to believe his client committed the crime, by broadcasting the DVD to the world, and implied it was proof of an affair.
The third potential crime is if the tape was ever publicly disclosed, known as nonconsensual disclosure of recorded sexual activity, otherwise known as "revenge porn." California Penal Code 647(j)(4) separately criminalizes such conduct even when the original tape was consensually recorded. Hence, claiming Trump agreed to the taping of the activity (highly unlikely) is no defense to this separate crime.
Additionally, Avenatti's potential political motivation to put hurting Trump over helping his client would be exposed in any potential suit or prosecution. As was publicly reported, in both college and law school Avenatti worked at a political opposition and media firm, The Research Group, run by Rahm Emanuel, the Chicago Mayor who once worked in President Obama's administration. He was asked about this during the 60 Minutes interview, and scoffed it off as activity from decades ago.
All of this liability for Avenatti and Daniels is an expensive price for two minutes of fame.
Robert Barnes is a California-based trial attorney whose practice focuses on Constitutional, criminal and civil rights law. You can follow him at @Barnes_Law.
[Screengrab via CBS News]
Have a tip we should know? [email protected]