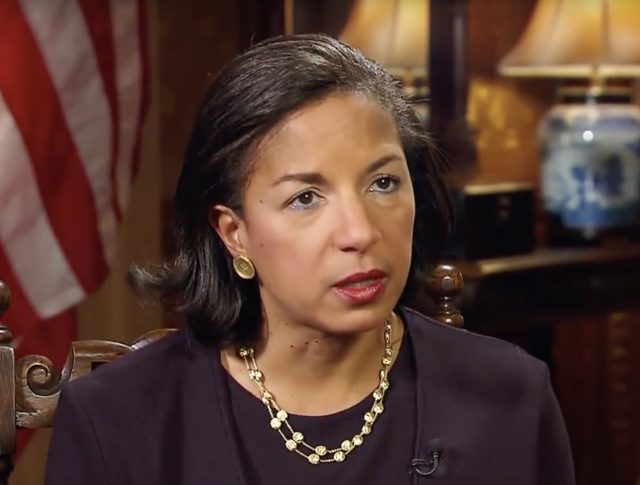 Early Monday morning Eli Lake at Bloomberg News broke a major story that alleges Obama's White House National Security Advisor Susan Rice gave the order to "unmask" members of the Trump campaign team.  In other words, the report alleged Rice was the person who gave the order to NSA officials to include the identity of Americans inadvertently swept up in communications intercepts.  The normal practice is for the NSA to redact the names of Americans caught up in signals intercepts, but if Lake's story is correct, it appears Rice asked them to modify the normal protocol.
So, if Rice did indeed order the NSA to include the names of Americans in intelligence reports, was she doing anything illegal?
The answer to that question is somewhat debatable, but according to Bradley Moss, a lawyer and national security expert, it would be nearly impossible to prove Rice was guilty of a crime in court.  Much as was the case with the Hillary Clinton and her emails, the legality of her actions comes down to the matter of intent. Can a prosecutor prove that Rice intended to break the law by asking for the redactions to be removed purely for political purposes?
Moss says that would be almost impossible.  USSID 18 provides the legal process for handling signals intercepts that inadvertently scoop up information on American citizens and ensures their constitutional rights are protected.  As was previously mentioned, normal procedure calls for any American's name to be redacted.  Yet, there are certain circumstances that permit someone in Rice's position to request that the names of Americans should NOT be redacted from certain intelligence reports (see Section 7.2 and 7.3).
Thus, a prosecutor would have to prove that Rice requested the unmasking solely for political purposes and Moss says that would be nearly impossible.
"It's an issue of proof. If there is actual evidence that she asked for the unmasking to be done for exclusively political purposes, and none other, then yes, it would be in violation of USSID 18," Moss said in email to LawNewz.
Then he continued, "But how are you going to prove that? Assuming Rice didn't literally send her request with the language 'I am doing this for only purely partisan political purposes and to harm Donald Trump's political fortunes', it's virtually impossible to prove that politics had anything to do with her motivation. She certainly had legitimate, non-political reasons to request the unmasking."
The Bloomberg News report absolutely raises questions about potential abuses of surveillance powers.  However, the fact remains that it would be incredibly difficult to prove what allegedly occurred with Rice was done for an illegal purpose.
[image via screengrab]
Have a tip we should know? [email protected]