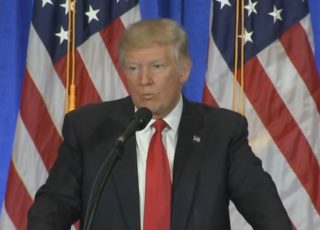 A new poll conducted by ABC News and The Washington Post asked Americans across the political spectrum how they feel about President-elect Donald Trump's business dealings and ethical concerns. Trump has stated that while he will not divest from the Trump Organization, he will remove himself from its operations, leaving that to his children. Despite the move, Trump's opponents have called for him to sell his businesses altogether, but according to the poll, most Americans don't care.
The poll, which was conducted from last Thursday to Sunday, showed that 52% of responders think that Trump has done enough, while just 42% want him to sell. Despite this, however, 44% still believe that Trump, his family, and advisers are not following federal ethics laws, compared to 43% who think they're complying. Of those polled, 37% identified as independents, 31% said they were Democrats, 23% said they were Republicans, five percent said "Other," and four percent did not identify as anything.
While the people who took the poll had varied political backgrounds, one thing most agreed on was that Trump should release his tax returns. A whopping 74% said that he should release his returns (41% said they care a lot about this, while 33% said they don't care much but still think he should turn them over).
Trump has repeatedly insisted that the American people don't care about his tax returns, and that only the media is concerned with this. The poll showed that only 18% think Trump should not release his returns, and that eight percent had no opinion.
[Image via PBS screengrab]
Have a tip we should know? [email protected]