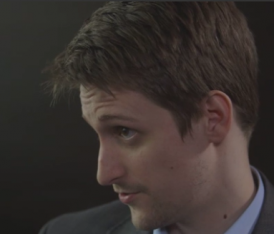 In the run up to the premiere this weekend of Oliver Stone's feature film about Edward Snowden, there has been much debate about what to do with the 33-year-old NSA leaker.  A new op-ed published late Thursday afternoon in The New York Times directly calls on President Obama to pardon Snowden and bring him "home."  Snowden himself said in an interview this week he would love to receive a pardon, but he would "never will" ask for one.  President Obama, in the past, has given no signals that he might be inclined to issue a pardon.  In fact, the president has previously said he did not see Snowden as a whistleblower and that he wanted Snowden to come back and face charges.
On Thursday, a bi-partisan group of congress members wrote a letter urging President Obama not to pardon Snowden.  The letter was signed by all members of the House Permanent Select Committee on Intelligence,  both Democratic members and Republicans members.
"We urge you not to pardon Edward Snowden, who perpetrated the largest and most damaging public disclosure of classified information in our nation's history," the letter states. "If Mr. Snowden returns from Russia, where he fled in 2013, the U.S. government must hold him accountable for his actions."
The letter continues, referring to Snowden not a whistleblower, rather a "criminal" who "stole 1.5 million classified documents from National Security Agency networks."
In conclusion, the lawmakers wrote:
"America's intelligence professionals take Mr. Snowden's disclosures personally.  We share their view that a pardon would severely undermine America's intelligence institutions and core principles, and would subvert the range of procedures in place to protect whistleblowers."
In addition to the letter, the House committee also announced that it had unanimously voted to adopt the findings of its two-year investigative report on Snowden's actions.  The majority of the report is classified, but an unclassified summary report was also released today.
"Contrary to Snowden's self-portrayal as a principled whistleblower, the report reveals that he was a disgruntled employee who had frequent conflicts with his managers and was reprimanded just two weeks before he began illegally downloading classified documents," the committee said in a press release accompanying summary report.
The committee says its report also found that a great majority of the documents stolen by Snowden had no connection to privacy or civil liberties.
Have a tip we should know? [email protected]