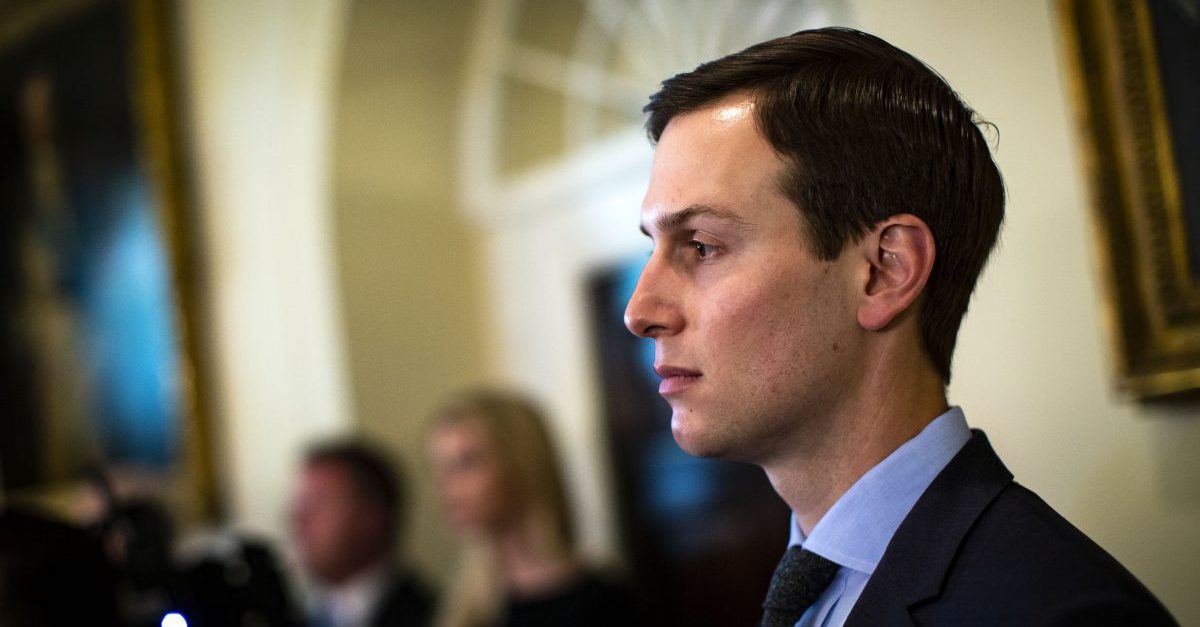 Congressional Democrats are calling for a criminal investigation into presidential son-in-law Jared Kushner over several allegedly "false statements" he made to federal investigators in service of obtaining his long-sought-after Top Secret security clearance.
Representatives Ted Lieu (D-California) and Donald Beyer (D-Virginia), addressed a two-page letter to Attorney General William Barr. The investigatory request relies upon recent news reports which claimed that President Donald Trump demanded his then-chief-of-staff John Kelly to overrule various federal authorities–including top officials in the intelligence community–and gift Kushner the security clearance.
"We are deeply disturbed by recent reports that President Trump ordered his Chief of Staff, John Kelly, to grant Jared Kushner a security clearance, overruling intelligence officials who raised concerns about the clear national security risks of doing so," the letter begins. "Taken together with previous reports that Mr. Kushner omitted contacts with more than one hundred foreign persons on his clearance forms — including the Russian Ambassador — we request that the Department of Justice open an immediate investigation to determine if Mr. Kushner is criminally liable for his false statements."
The letter cites a bombshell report from The New York Times which noted that Kelly was apparently so distraught with Trump's request, the former general and one-time chief of staff wrote a "contemporaneous memo" to document the extraordinary circumstances and pressure he was under to comply with his boss.
The letter also accuses Kushner and Ivanka Trump of repeatedly lying about the security clearance issue:
Mr. Kushner and Ivanka Trump have both apparently lied in various public interviews and in statements, saying that the President never directed Kelly to grant a clearance for his son-in-law. In an interview on ABC News' The View on February 8, Ivanka Trump said, "The President had no involvement pertaining to my clearance or my husband's clearance — zero."
It's not just the apparent lies to media that have Lieu and Beyer up in arms. Their letter also suggests Kushner likely committed a federal crime.
"Lying to the public, though disgraceful and unethical, is not ipso facto a criminal act," the letter continues. "Lying on one's SF-86 Questionnaire for National Security Positions, however, is a federal crime under 18 U.S. Code § 1001 punishable by up to five years in prison. It was previously reported that Mr. Kushner had to submit at least three separate addenda detailing over 100 omissions, including the infamous June 2016 meeting he attended in Trump Tower where Russian agents offered 'dirt' on then-candidate Hillary Clinton."
The letter also notes that Kushner additionally failed to mention a meeting he took with Russian Ambassador Sergey Kislyak. Kushner ultimately offered the excuse that his initial omissions were inadvertent, but his lack of forthrightness has now raised more than suspicious glances.
The letter notes that House investigators are currently addressing the security clearance issue but goes on to specifically request a "concurrent criminal probe" from the Department of Justice in order to "safeguard our national security secrets and ensure our laws are being upheld." The letter also complains that White House officials have "not been cooperative in the [House Oversight] Committee's [security clearance] probe."
"Ultimately, the President and his son-in-law have made a mockery of the security clearance process," the letter thunders near the end. "Their actions put U.S. national security at risk and offend the thousands of dedicated career officials who both grant and receive clearances the correct way."
[Image via Al Drago-Pool/Getty Images]
Have a tip we should know? [email protected]