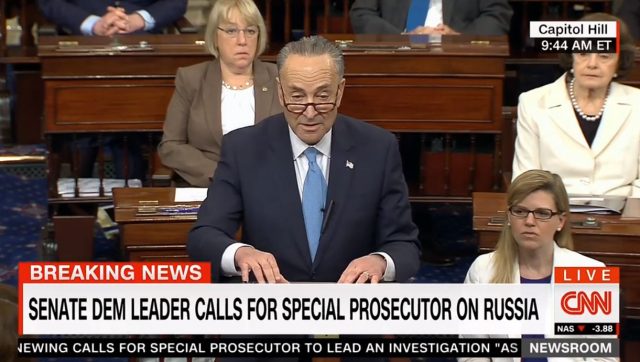 In the wake of James Comey's dismissal from his post as Director of the FBI, Democrats are clamoring for a special prosecutor to investigate potential ties between Russia and President Donald Trump's campaign. Comey had been involved in an investigation into Russia's influence on the election at the time he was terminated. Senate Minority Leader Charles Schumer spoke about the need for a special prosecutor — an independent outside attorney — in a speech before the Senate on Wednesday. But how is that done, and is it likely to actually happen?
Normally, a special prosecutor is appointed by the Attorney General, but after Jeff Sessions decided to recuse himself from investigations into the Trump campaign, that responsibility falls to whomever is serving as the Acting Attorney General in the case. Federal law says that "in cases in which the Attorney General is recused, the Acting Attorney General, will appoint a Special Counsel when he or she determines that criminal investigation of a person or matter is warranted," if the prosecution "would present a conflict of interest for the Department or other extraordinary circumstances," and it would be in the public interest.
Here, that would be the newly-confirmed Rod Rosenstein, whose recommendation, along with Sessions', the White House cited as informing the President's decision to fire Comey. Schumer told the Senate Wednesday morning that Rosenstein should appoint a special prosecutor.
This is not the first time that Sen. Schumer has called for a special prosecutor to oversee the Russia investigation. When Sessions first recused himself, Schumer said anyone in Trump's chain of command would raise doubts, so he said if then-deputy Dana Boente didn't appoint a special prosecutor, he would push for legislation that would put the decision of appointing one in the hands of a three-judge panel, instead of the acting AG. This is similar to how the process used to work under the Ethics in Government Act of 1978, which was passed after the Watergate scandal.  The parts of the Act related to independent counsels are no longer on the books, however, after criticism due to independent counsel Ken Starr's investigation of President Bill Clinton.
Of course, with the GOP controlling Congress, reinstating such rules may not be likely. Many Republicans have rallied behind Trump's decision to fire Comey, and may not have any issue with the status quo. Additionally, if recent Senate activity is any indication, any push for a special prosecutor initiated by Democrats could meet knee-jerk opposition from the GOP. Senate Majority Leader Mitch McConnell has already come out against a special prosecutor. Vice President Mike Pence, who would issue a deciding vote in a tie in the Senate, said Wednesday that there is no need for a special prosecutor, saying, "the facts that are in public today are very clear … there no evidence of collusion."
Note: This article has been updated to reflect remarks from Sen. Schumer, Sen. McConnell, and Vice President Pence.
Have a tip we should know? [email protected]