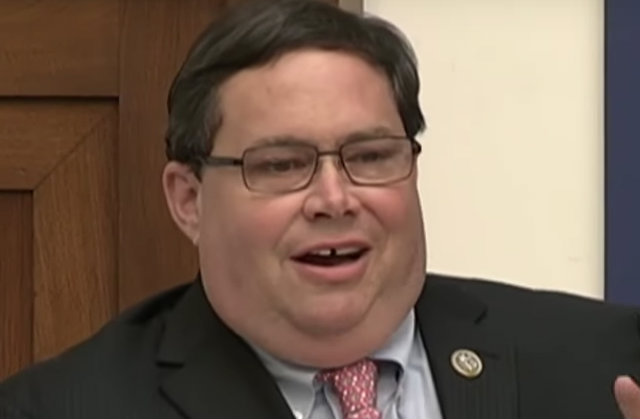 On Wednesday, Texas Democrats fight to keep a Republican on the ballot. The local GOP officially withdrew Rep. Blake Farenthold's from the primary because he won't seek election amidst a sexual harassment scandal, but local Dems said they pulled his name after the deadline.
"Texas Democrats will not stand idle while Republicans rig the ballot," Dems said in a statement obtained by the Austin-American Statesman. "Only voters have the power to choose who leads our state and nation, not politicians and party officers in backroom decisions. Last we checked, this was Texas not Russia." They said that "This is about protecting democracy, not Republican Blake Farenthold's vile actions. Farenthold has no business serving in public office, but the primary ballot is set and he failed to withdraw."
The Texas GOP did not immediately return a Law&Crime request for comment. Before news of the lawsuit broke, Party Chairman James Dickey defended the decision to pull Farenthold's name after the deadline.
"Our constitutional right of freedom of association allows us to do this," he said. A state lawyer reportedly argued in court Tuesday that authorities lack the power to force the GOP to keep Farenthold's name even if withdrawing him might break the law.
The congressman is retiring from office at the end of this term because it was revealed that he settled a sexual harassment complaint using taxpayer money. Other claims of abusive misconduct emerged, leading to an Ethics Committee investigation into his behavior. A New York Times report said that Farentholt's office was allegedly a toxic workplace for women.
The news arrived in early December, an awkward time for him. He was planning to run for reelection. But the state said in court that they couldn't reschedule the deadline to submit names for the GOP primary. It'd cause too many logistical problems.
"Such an extended filing period, if triggered now, would exceed the Dec. 19, 2017, deadline to submit a list of candidates to the secretary of state and the Dec. 21 deadline to draw names on the ballot," the lawyers argued, according to the Statesman. "It would also impede the already short period local election officials have to complete ballots before the Jan. 20, 2018, deadline to mail primary ballots to overseas military members."
Texas GOP primary is scheduled for March 6.
[Screengrab via MSNBC]
Have a tip we should know? [email protected]