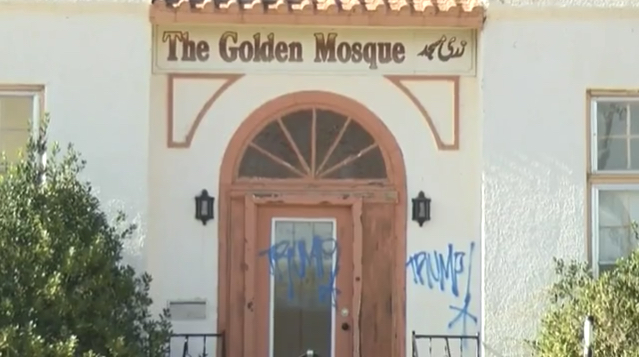 A small, southwestern mosque was targeted last weekend by spelling-challenged vandals.
Neighbors woke up Monday morning to find that someone with a can of red spray paint paid an unwelcome visit to the Golden Mosque in the City of Clovis, New Mexico. That spray paint reads: "Happy Birthday Jesus Christ! From a real Christain [sic]"
On the front of the mosque, near the door, was the word "Trump" scrawled twice in blue. The vandal(s) misspelled "Christian" again on the mosque's marquee.
One such neighbor, Toni Pop, spoke with local KRQE News 13 about the incident. She said, "I pass by this every day and it was about 7:30 this morning, and of course you're going to notice big red spray paint. This shouldn't be happening…No one should be able to feel that. It's not a good feeling."
The mosque is administered by Clovis-area cardiologist Mahamadu Fuseini. According to Fuseini, nothing inside the building was damaged or stolen. He also noted that the mosque normally hosts up to 20 families for worship during the Islamic holy month of Ramadan and holds weekly prayer services on Fridays.
Clovis police have signaled that the vandalism may be considered a hate crime, but that it may be difficult to prove.
In New Mexico, proven hate crimes for petty misdemeanors like vandalism result in an alteration of sentencing and would likely require community service, treatment, education, or some combination thereof.
According to police, similar graffiti has appeared around the city before the mosque was targeted, but they are currently without a suspect.
City officials say they are aware of the vandalism to the Golden Mosque and that they plan to clean it up.
[image via screengrab]
Follow Colin Kalmbacher on Twitter: @colinkalmbacher
Have a tip we should know? [email protected]