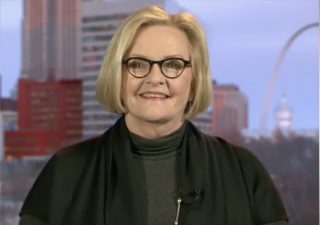 Missouri Senator Claire McCaskill issued a stern warning to a group of Democratic Party donors, saying that encouraging her fellow colleagues to push Sen. Chuck Schumer to filibuster Neil Gorsuch could have disastrous consequences for the party longterm.
The remarks were captured on hidden auto obtained by the Kansas City Star newspaper, and they include the moderate Senator (up for re-election in 2018) warning of what could happen to the future of the party if they take a hardline stance on Gorsuch.  Cutting straight to the point, McCaskill said opposing a nominee such as Gorsuch (a well thought-of appellate judge) would almost surely cause Republicans and Sen. Majority Leader  Mitch McConnell to not only eliminate the SCOTUS filibuster rule, but also provide them with reason to pick more extreme candidate to fill the 9th seat on the High Court.
"By the way, Gorsuch was one of the better ones," McCaskill told the audience, to muffled laughter.
She added, "The Gorsuch situation is really hard. There are going to be people in this room that are going to say, 'No, no, no. You cannot vote for Gorsuch,' " McCaskill said, according to the audio.  "Let's assume for the purposes of this discussion that we turn down Gorsuch, that there are not eight Democrats that vote to confirm him and therefore there's not enough to put him on the Supreme Court. What then?
"So they pick another one off the list and then they bring it over to the Senate and we say no, no, no, this one's worse, she said rhetorically.  "And there's not enough votes to confirm him. They're not going to let us do that too long before they move it to 51 votes," she explained.
All of this can potentially happen, of course, in large part due to Sen. Harry Reid's decision to remove the filibuster for non-SCOTUS judicial appointees in 2013.  That paved the way for Republicans to go a step further when they took control of all three branches in 2016.
John LaBombard, a Missouri Republican spokesman, called McCaskill's comments on Wednesday "an honest answer to a question."
"She was asked about the lay of the land with the Gorsuch nomination and gave her thoughts. She didn't say how she is going to vote on the nomination because she hasn't decided yet," he said, but strongly suggested she should vote for Gorsuch.
[image via screngrab]
Have a tip we should know? [email protected]