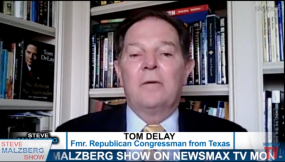 Hillary Clinton can't seem to shake the e-mail scandal that's rocking her campaign. The inflammatory comments of former House Majority Leader Tom DeLay will only add fuel to the fire.
"They're ready to indict, they're ready to recommend an indictment," DeLay said.
DeLay made the controversial announcement to conservative commentator Steve Malzberg on last night's taping of the "The Steve Malzberg Show." The former Republican Congressman from Texas told Malzberg that his friends in the FBI are ready to indict Hillary Clinton, the former Secretary of State and Democratic presidential frontrunner.
To be clear, the FBI has no ability to indict anyone, the indictment must come through the office of the U.S. Attorney General Loretta Lynch. And for that matter, the FBI will not comment on the status of their investigation.
Controversy descended on Clinton in March 2015 after it became publicly known that the former First Lady exclusively used her family's private email server while serving in her official capacity as Secretary of State under President Barack Obama. Members of Congress and the media have criticized Clinton for her use of the server and the deletion of over 30,000 emails, which they claim are violations of both State Department protocol and federal record keeping requirements.
Check out the video from "The Steve Malzberg Show" below:

[h/t New York Post]
Have a tip we should know? [email protected]