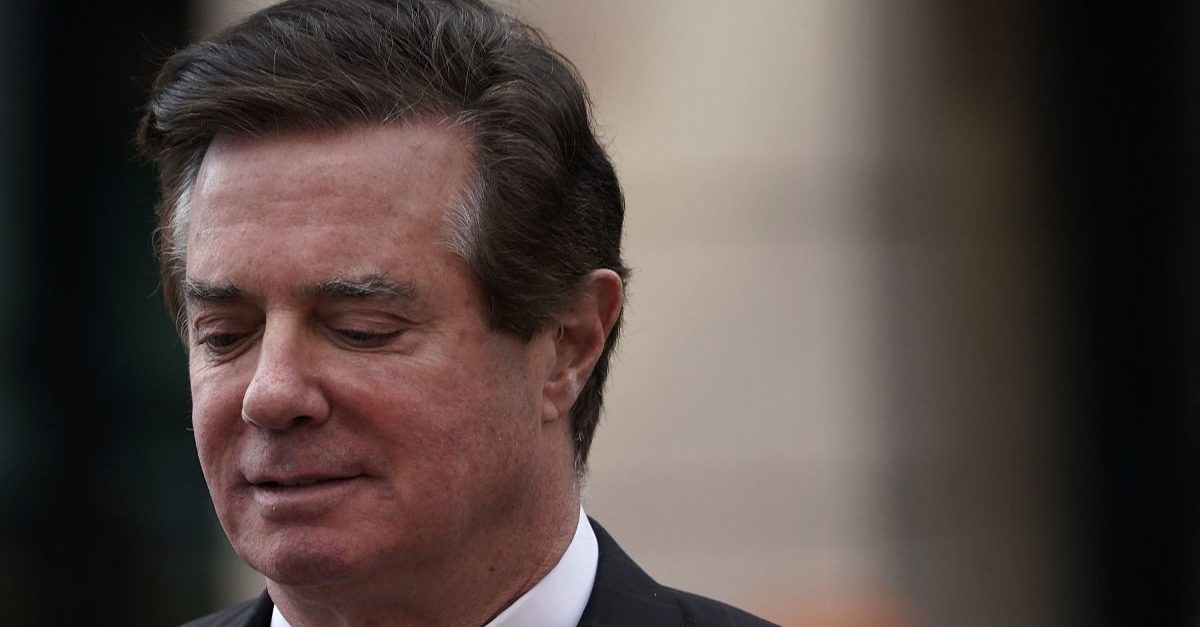 Judge Amy Berman Jackson of the United States District Court for the District of Columbia on Tuesday ruled against former Trump campaign chairman Paul Manafort by saying the investigation of alleged financial fraud falls within the mandate of special counsel Robert Mueller's Russia Probe.
This is notable because the Trump Administration, including Donald Trump, used Eastern District of Virginia (EDVA) Judge T.S. Ellis' pointed line of questioning about Mueller's authority a week and half ago in a separate fraud case to suggest that even a federal judge recognizes that a witch hunt is afoot.
USA Today reporter Brad Heath tweeted out Berman Jackson's reasoning for denying a motion to dismiss this afternoon.
She said: the Manafort indictment falls "squarely within" Mueller's authority; the investigation was "logical and appropriate; special counsel regulations do not "create any substantive rights for the benefit of individuals under investigation"; Mueller would have been "remiss" to ignore this "obvious potential link" between Manafort's alleged Ukraine dealings and Russia's election interference.
A federal judge has rejected ex-Trump aide Paul Manafort's challenge to Mueller's authority to prosecute him. The indictment falls "squarely within" the special counsel's authority. pic.twitter.com/CtoccEH37o

— Brad Heath (@bradheath) May 15, 2018
Judge: "It was logical and appropriate for investigators tasked with the investigation of 'any links' between the Russian government and individuals associated with the" Trump campaign to focus on Manafort. pic.twitter.com/Yr8t8ejmTB

— Brad Heath (@bradheath) May 15, 2018
Also: Judge says DOJ's special counsel regulations don't create enforceable rights, so even if Manafort's indictment was outside the scope of Mueller's investigation, he can't challenge that. pic.twitter.com/guqWFgHxy1

— Brad Heath (@bradheath) May 15, 2018
The judge has categorically rejected Manafort's arguments that Mueller's case against him was outside the scope of the special counsel's authority. "The matter will proceed to trial." pic.twitter.com/J8SINbDVk6

— Brad Heath (@bradheath) May 15, 2018
Judge Jackson: Mueller "would have been remiss to ignore" Manafort's ties to Russia, and the charges against him fall "well within the authority granted to the Special Counsel." pic.twitter.com/r8MeJufLdW

— Brad Heath (@bradheath) May 15, 2018
So, why is this important? Previously Law&Crime speculated that maybe Trump might be waiting to see how the Manafort cases in EDVA and D.C. would shake out before making a decision about speaking to Mueller.
Although Trump's new attorney Rudy Giuliani suggested the delay had more to do with the leak of Mueller's potential questions for Trump, the FBI raid on Michael Cohen's office and Trump's upcoming meeting with Kim Jong-un in Singapore, there was still a reason to pay close attention to Manafort.
Giuliani himself mentioned Judge T.S. Ellis' remarks in a BuzzFeed News interview. On May 4, Ellis ordered Mueller's prosecutors two weeks to provide "completely unredacted versions of [Deputy Attorney General] Rosenstein's orders assigning special counsel Mueller" before he would make a decision on keeping the Manafort indictment or dismissing it.
"[Ellis' comments] have really thrown this into a new dimension if there's a real possibility they [the special counsel's office] don't have authorization," Giuliani said, adding that if Ellis ruled against Mueller, "They're going to have a big problem."
In case you missed it, Trump also mentioned Ellis' comments to a crowd attending the NRA convention in Dallas.
Here's what Judge Ellis said on May 4:
I don't see what relation this indictment has with what the special counsel is authorized to investigate. You don't really care about Mr. Manafort's bank fraud […] What you really care about is what information Mr. Manafort could give you that would reflect on Mr. Trump or lead to his prosecution or impeachment.
He said Mueller didn't care about Manafort's alleged bank and tax fraud and wanted to use Manafort as a vehicle to get to Trump. Ellis also said, "What we don't want in this country, we don't want anyone with unfettered power."
"It's unlikely you're going to persuade me the special counsel has unlimited powers to do anything her or she wants," he added.
Ellis set a trial date for July 10, but hasn't ruled yet on whether to dismiss. Judge Amy Berman Jackson clearly didn't not have the same issues when Manafort and his legal team questioned the scope of Mueller's authority in the case against Manafort in D.C.
Manafort was indicted in D.C. back in October 2017  for financial fraud (money laundering) and violating lobbying disclosure laws.
[Image via Alex Wong/Getty Images]
Have a tip we should know? [email protected]