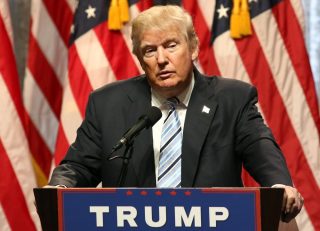 In mid-November, Donald Trump was already the President-elect, but was headed towards a trial over fraud allegations stemming from his Trump University real estate classes. Less than two weeks before the trial was scheduled to begin, Trump agreed to settle the lawsuits against him. On Tuesday, three days before he is to be sworn into office, Trump lived up to his side of the agreement, paying $25 million, according to Politico. 
Of that money, $4 million will cover the New York Attorney General Eric Schneiderman's lawsuit, while the rest will go towards individuals who sued Trump. Trump will also have to pay $1 million as a penalty for violating New York education regulations. The money is currently being held in escrow until a judge approves the settlement. In a statement, Schneiderman's spokesperson Amy Spitalnick said:
The $25 million settlement marks a significant victory for the thousands of fraud victims in New York and across the country, all of whom will receive restitution, in addition to the up to $1 million in penalties Donald Trump will pay to the State of New York for violating education laws.
Trump has been accused of paying for legal matters with money from his charitable foundation, but he has promised not to do that this time.
[Image via Shutterstock]
Have a tip we should know? [email protected]