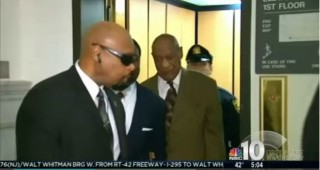 Beth Karas is LawNewz.com's Editor-at-Large. She is currently in a Pennsylvania courtroom at Bill Cosby's hearing. She sent in the details for this report:
This morning a second witness was called to the stand in the Bill Cosby hearing. A judge is set to determine whether a non-prosecution agreement is enforceable and if the whole case should be thrown out because of it. Cosby's attorneys allege that the former Montgomery County district attorney agreed not to prosecute Cosby after finding there was not enough evidence. Bill Castor testified Tuesday that he thought Cosby may have done it, but didn't think he could convince 12 jurors. The alleged victim, Andrea Constand, sued Cosby in 2005 claiming he rapped and drugged her. Cosby's civil deposition in the case is now the heart of the prosecutor's newly filed case against him.
Here is what happened this morning (from Beth Karas):
A second witness was called by the defense: John P. Schmitt, a New York corporate attorney, who has represented Bill Cosby since the 1990s. Schmitt said in 2005 he became aware of a criminal investigation into Cosby, but he says the allegations were resolved in mid-February 2005, and the DA determined there was insufficient evidence to prosecute. He retained Walter Phillips as criminal defense counsel for Cosby during the investigation. Phillips has since died.
"I understood that the case could not be reopened. I spoke to Phillips who said that though Cosby wasn't being charged, the DA wanted to make sure he had to testify in a civil case—that he couldn't take the 5th," Schmitt said in court. Schmitt said it was his understanding that Cosby could not be charged, and that was irrevocable. He also added that back in 2005 Cosby was interviewed in a conference call at his office by detectives.
"We participated in discovery (re: the civil case). Mr. Cosby sat for 4 days of deposition knowing that the criminal case could not be reopened. Did Mr. Cosby invoke the 5th? No," Schmitt said.  Prosecutor Kevin Steele cross examined Schmitt.
Here is some of the back and forth:
KS: But you talked to him and you were fine with his testimony?
JS: Yes I did.
KS: You knew what the 5th was?
JS: I knew, yes.
KS: If it was so important to have this agreement, there's no mention at the beginning of these depositions of the 5th? (Steele is yelling in court.)
JS: You don't have to yell at me.
Judge agrees.
JS: The agreement was made with the DA. Civil case was filed after. No need to discuss the 5th because the DA has made an irrevocable decision not to prosecute. I relied on the attorneys I hired who assured me. I never spoke to Mr. Cosby.
Stay with LawNewz.com for updates from court.
[Screengrab via NBC 10 in Philly]
Have a tip we should know? [email protected]