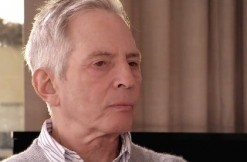 Robert Durst, the infamous real estate heir, pleaded guilty to federal gun charges Wednesday at a New Orleans court. It was alleged he'd illegally possessed a .38-caliber revolver, and now he will serve 85 months in prison under a plea deal, according to The New York Times. But Durst also faces murder charges, so this won't end his legal trouble.
Authorities say he killed journalist Susan Berman in 2000, and he'll be transferred to a Los Angeles prison to contend with that allegation. The arraignment is scheduled for Aug. 18. Durst had been arrested for that charge on March 14, 2015. It's a weird coincidence because the night after, HBO aired the last episode of The Jinx, a documentary about the allegations surrounding him.
He's been eyed for the 1982 disappearance of his wife, Kathleen McCormack Durst, but no charges were brought forward. Also, while he was arrested for the 2001 murder of his neighbor Morris Black, he was acquitted.
The Berman charge is first-degree murder. If he's convicted, the 72-year-old would face at least 25 years in prison. Maybe a life sentence.
[h/t New York Times]
Update — Feb. 3, 12:32 p.m. EST: LawNewz obtained a report that the judge made a ruling Wednesday for a "conditional acceptance of guilt." This means the judge will make another ruling at the pre-sentencing hearing scheduled for April 27. Durst's attorney, Dick DeGuerin, is asking for that hearing to happen sooner, though.
–
>> Follow Alberto Luperon on Twitter (@Alberto Luperon)
Have a tip we should know? [email protected]