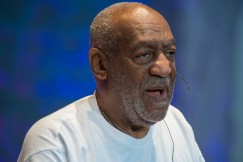 Former District Attorney Bruce Castor is scheduled to testify in the sexual assault case against Bill Cosby. It's expected to happen Tuesday.
The 78-year-old comedian is on trial for aggravated indecent assault. Andrea Constand, 42, said he'd drugged and sexually assaulted her at his Pennsylvania home. However, the then-DA for Montgomery County, Castor, did not pursue charges. Constand then sued Cosby, who participated in a civil deposition. That document was sealed for years. Fast-forward a decade, and now Castor's successor, Kevin Steele, has brought forward charges against Cosby, who faces 10-year in prison. But the state's case largely rests on the now-unsealed deposition, in which Cosby seemed to corroborate the alleged victim's story. (Except that it wasn't sexual assault, according to him.)
Now Cosby's attorneys say their client only did the deposition because Castor promised not to bring forward charges if he discussed anything potentially illegal. Otherwise, he'd have plead the Fifth. This is a land mine that could destroy the state's case against Cosby.
Click here for LawNewz.com's Editor-at-Large, Beth Karas, on the three possible outcomes of the Cosby hearing.
[h/t CBS Philadelphia]
–
>> Follow Alberto Luperon on Twitter (@Alberto Luperon)
Have a tip we should know? [email protected]