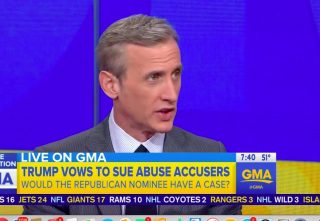 Over the weekend, Donald Trump declared he would sue the 11 women who have come forward with claims that he sexually assaulted them.
"Every woman lied when they came forward to hurt my campaign. The events never happened… All of these liars will be sued after the election is over," Trump stated at a rally in Gettysburg, Pennsylvania.
But, not so fast. LawNewz.com founder and ABC Chief Legal Analyst Dan Abrams doesn't think there is a chance that Trump will actually follow through on his threat.
"I don't think there is a chance he is going to take this to court. Donald Trump has threatened over the years to take people to court over various things they've said. In almost every case, he hasn't moved forward on it," Abrams said on Good Morning America on Monday.
WATCH:
And, in fact, according to a recent Reuters report, Trump hasn't sued a media outlet for libel in three decades, despite his repeated threats.
Why won't he sue?
"First of all, you've got the tapes. You've got the Access Hollywood tapes. You've got Howard Stern Tapes. You've got the possibility of all the out takes from The Apprentice would then be subpoenaed in connection with the case," Abrams said.
"I think it's much more likely that they will sue him then he will sue them. He's calling them liars. We've seen that happen in the Bill Cosby case for example," he added.
Abrams came to the same conclusion as LawNewz.com's editor Elura Nanos, who wrote a column over the weekend. "Well, he's at it again. Another day, another empty attempt to intimidate women," Nanos wrote.
Have a tip we should know? [email protected]
Rachel Stockman - President / On Air Host