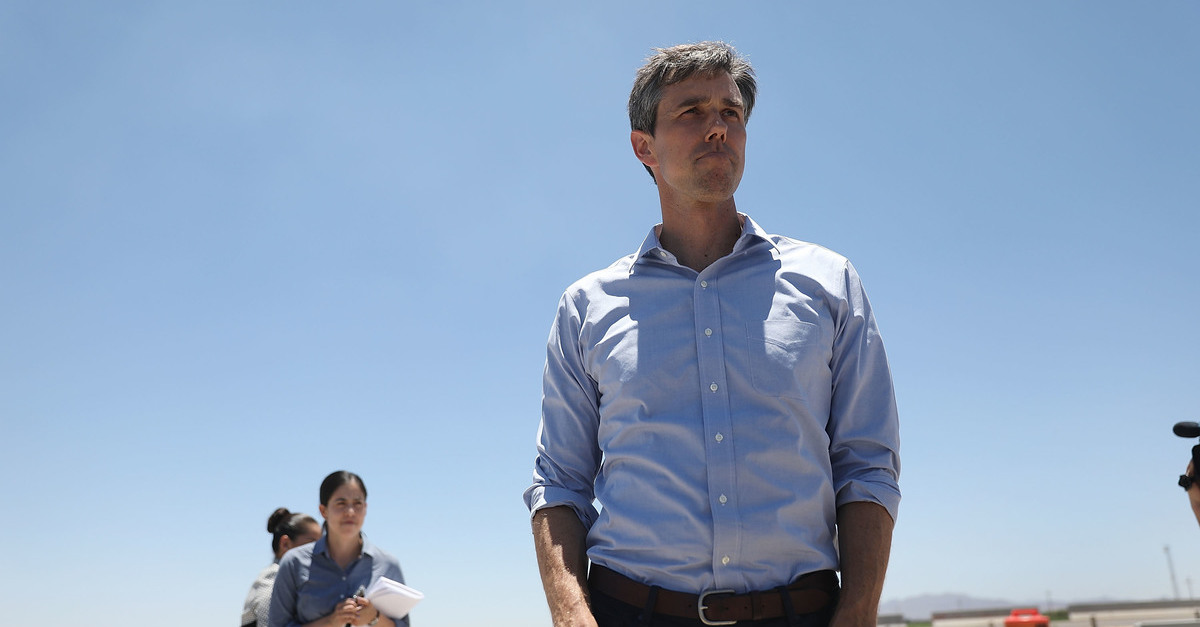 Another deceptive mailer being sent to voters in Texas in service of Senator Ted Cruz's increasingly precarious re-election bid has been described as a "voter suppression tactic" by a civil rights group in the Lone Star State. This time, however, the Cruz campaign claims they're not responsible, the Austin American-Statesman reported.
The fake mailer is currently circulating throughout the relatively conservative college town and home of Texas A&M University, appropriately named College Station. Sporting a fake Austin return address, the mailer launches falsely warns O'Rourke supporters they could be fined before launching into a laundry list of vague charges against Cruz's Democratic challenger, centrist El Paso Representative Beto O'Rourke.
https://twitter.com/TXCivilRights/status/1047172699397734400
Recently obtained by the Texas Civil Rights Project, the broadside attack warns of a $500 fine for anyone who displays signs in favor of O'Rourke. Styling itself as a "CITATION WARNING," the mailer also offers voters a self-described "BETO REALITY CHECK," before tossing out accusations such as, "FELONY ARREST RECORD," "INSIDER TRADING VIOLATIONS," "FATHER'S DRUG SCANDAL," and "FAMILY BUSINESS FEDERALLY PROSECUTED." The mailer also notes that O'Rourke is "NOT HISPANIC."
Some of those accusations hold some water; some don't.
It is true that O'Rourke's father, a former El Paso County judge, had a minor drug scandal in 1983 involving a condom full of white powder–when O'Rourke was 10 years old. It's also true that O'Rourke's grandmother's business (which was then passed down to his mother) was prosecuted and found guilty of tax violations in 2010–but O'Rourke appears to have never had a formal role in the company.
The insider trading violations charge? Not exactly on the money either; but there are grains of truth involved. Insider trading is a federal crime under various statutes, but O'Rourke was never found guilty of or charged with any such crimes. Here's what happened: In 2013, O'Rourke voluntarily submitted himself to an House Ethics Committee investigation after his stock broker purchased up to $15,000 worth of shares in Twitter stock–potentially in violation of a recently-passed law–but was cleared by the committee after selling his shares.
As for the felony arrest accusation, that's entirely off-base. O'Rourke was arrested twice during the nineties. Once for attempted forcible entry after jumping a fence at the University of Texas-El Paso when he was 22. He was arrested a second time for a highly-publicized DWI a few years later. Under Texas law, both crimes are misdemeanors.
So, the mailers are clearly political advertising posing as legalistic authority–similar to the Cruz campaign's own fake court summons sent to Texas voters which actually just included a solicitation for donations to Cruz's campaign. But in comments to the Austin American-Statesman, the Cruz campaign denied they were behind the fake fine warning.
And the mailers could be illegal.
The law on point here is known as the Texas Deceptive Trade Practices Act, which is codified at §17.46(a)-(b)(29) and reads, in relevant part:
False, misleading, or deceptive acts or practices in the conduct of any trade or commerce are hereby declared unlawful and are subject to action by the consumer protection division…

[T]he term "false, misleading, or deceptive acts or practices" includes, but is not limited to, the following acts … delivering or distributing a solicitation in connection with a good or service that: (A) represents that the solicitation is sent on behalf of a government entity when it is not; or (B) resembles a governmental notice or form that represents or implies that a criminal penalty may be imposed if the recipient does not remit payment for the good or service…
Beth Stevens, voting rights legal director for the Texas Civil Rights Project said her organization had already contacted the Texas Secretary of State's office and was considering working with a law enforcement agency on the matter.
Of the mailer's impact, which purports to be sent on behalf of the State of Texas, Stevens said, "It's absolutely a voter suppression tactic."
[image via Joe Raedle/Getty Images]
Follow Colin Kalmbacher on Twitter: @colinkalmbacher
Have a tip we should know? [email protected]