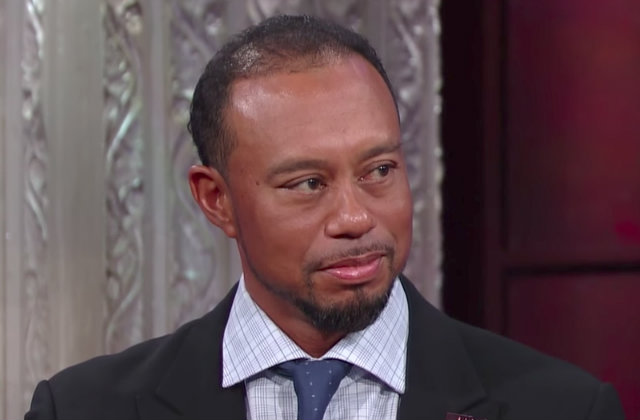 DUBLIN, Ohio (AP) — Another public embarrassment for Tiger Woods is shifting to the legal side following his arrest in Florida on a DUI charge, with one criminal expert suggesting Woods made a mistake by claiming publicly that prescription medicine was to blame.
On the eve of the Memorial Tournament, which Woods won a record five times, PGA Tour players who grew up admiring his dominance in golf wished for the best.
Commissioner Jay Monahan said the tour would be there to help him.
"I think Tiger's statement on Monday night, where he apologized and he said he was going to do everything he can in his power to make sure this doesn't happen again, I think says everything," Monahan told The Associated Press on Wednesday. "He's a member of our family, and we're going to do everything we can to help and support him."
Jupiter Police on patrol at 2 a.m. Monday noticed a Mercedes pulled awkwardly to the side of the road with the engine running, the brake lights on and a right turn signal blinking. Both tires on the left side of the car were flat, and police described fresh damage to the driver's side.
Inside the car, Woods was sound asleep at the wheel. Police said in incident reports that his speech was slurred and he didn't know where he was. He was unable to tie his shoes and failed a sobriety test. A breath test registered 0.0 for alcohol, corroborating what Woods said in a statement issued Monday evening.
"I want the public to know that alcohol was not involved," Woods said. "What happened was an unexpected reaction to prescribed medications. I didn't realize the mix of medications had affected me so strongly."
Police released the dash-cam footage Wednesday night. It shows officers approach the car and Woods, who didn't know where he was. The footage also shows Woods stumble and sway through a field sobriety test.
He was arrested and briefly jailed on suspicion of driving under the influence. He also agreed to a urine test.
It the first time Woods ran into trouble off the golf course since he plowed his SUV into a tree and a fire hydrant outside his Windermere, Florida, home in the early morning after Thanksgiving in 2009, which led to revelations that he had multiple extramarital affairs. He eventually was cited for careless driving and fined $164.
Woods is to be arraigned July 5 in Palm Beach County court on the DUI charge.
Katie Phang, a former Florida prosecutor, said the statement in which Woods took full responsibility could come back to haunt him if he fights the charge.
"Tiger's statement was a bad idea. He should not have said anything," Phang said. "Now, he can't claim that he was not DUI and just was tired from a long day."
Douglas Duncan, a West Palm Beach attorney representing Woods, did not immediately return messages by phone or email from The Associated Press.
Woods told police he had taken several prescriptions. The arrest affidavit listed four medications, including Vicodin, that Woods reported taking. Vicodin is an opioid pain medication. The other three drugs appear to be misspelled. One is similar in spelling to Solax (a muscle relaxer) or Solox (for acid reflux). Another is similar in spelling to Etorix, a painkiller not currently approved in the United States.
David S. Weinstein, a former federal and state prosecutor, said the key to prosecuting Woods would be establishing the presence of Vicodin.
"You can't get him on a sleeping pill," said Weinstein, now a defense lawyer in Miami. "It has to be a controlled substance."
Under Florida law, a presumption of guilt exists if there is evidence of a blood-alcohol content of .08 or above. No such presumption exists when drugs are involved. Weinstein said prosecutors would have to use other evidence that Woods was impaired, such as failing roadside sobriety tests, being found asleep at the wheel or signs of a possible accident with his car. He said the presence of Vicodin in a urine test would not be enough.
"It has to affect your normal faculties," he said.
Weinstein said DUI suspects in Palm Beach County can be offered a diversion program at arraignment that drops the DUI charge to reckless driving, which results in probation, a $250 fine and other conditions such as taking a DUI course. Defendants typically do not lose their driver's license.
Any punishment from the PGA Tour is not made public.
Woods had his fourth back surgery on April 20 and is out the rest of the year. He has played just one PGA Tour event since August 2015 because of other back surgeries.
A tour spokesman declined to comment on whether Woods is subject to any penalty "conduct unbecoming," keeping to the longtime PGA Tour policy of not discussing whether players are disciplined.
Steven Bowditch was arrested during the Phoenix Open for extreme DUI. He has not missed a tournament for which he has been eligible since then. The only known suspensions in recent years were John Daly and Matt Every, but only because they made it public.
That was the least of players' concerns at Muirfield Village.
"I don't know all the details about it, but hopefully it's not a worse problem than it is," former Masters champion Adam Scott said.
Jason Day, who grew up idolizing Woods and often consults him on golf matters, said he sent Woods a text and has not heard back.
"From what I've heard, it was like different dosage of prescribed medicine that he took," Day said. "I mean, he's had four back surgeries and seven knee surgeries and some Achilles and stuff like that. It's tough to see him go through this. Hopefully, he's on the right dosage and he can get through this stage and hopefully come back."
___
AP Legal Affairs Writer Curt Anderson in Miami contributed to this report.
[Screengrab via ESPN]
Have a tip we should know? [email protected]