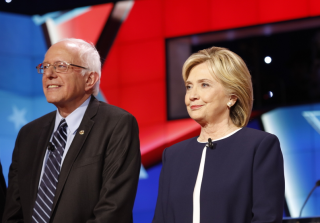 "Faithless electors," or members of the Electoral College who wouldn't vote according to how their state went in the general election, were a big story before the Electoral College met on December 19. As it turned out, there was no large-scale movement that would alter the course of history, as some had expected or hoped, though there were a few, leading to votes for people who weren't even on the ballot, like Bernie Sanders and Colin Powell. But there were others who tried to do the same but were blocked from doing so by their states, and removed from their positions. One of these electors, Muhammad Abdurrahman, sued the state of Minnesota, looking to force them to reinstate him and count his vote. On Friday, a judge dismissed his case.
Abdurrahman showed up to the meeting of Minnesota electors, and when it came time to cast his vote he filled out his ballot for Sanders and Hawaii Congresswoman Tulsi Gabbard, instead of choosing Hillary Clinton for President and Tim Kaine for Vice President, which is how the state voted. The Minnesota Secretary of State, Steve Simon, didn't accept Abdurrahman's vote, and replaced him with another elector who voted for the Clinton/Kaine ticket. According to court documents, Simon's reasoning was that Abdurrahman vacated his position by not voting for Clinton and Kaine. All electors in the state had to pledge to vote for the winning party's candidates, and Abdurrahman failed to do that. Minnesota's Uniform Faithless Presidential Electors Act allows for the Secretary of State to not accept an elector's vote if it violates their pledge.
In response, Abdurrahman filed a complaint alleging that the Uniform Faithless Presidential Electors Act is unconstitutional. He also filed a motion requesting an injunction against the state, looking for the court to force Minnesota to count his vote for Sanders and Gabbard. Unfortunately for him, he was too late. Abdurrahman filed his lawsuit the same day as the Electoral College vote, hoping that he could get the court to change Minnesota's votes before they were sent off to Washington, D.C.  But the votes were sent out the next day, so by the time Abdurrahman's motion went before District Court Judge Paul A. Magnuson, it was too late.
Judge Magnuson denied the motion and dismissed the complaint, stating that not only was it too late for Abdurrahman to do anything about it, but the delay was his own fault. "Abdurrahman's failure to bring his claim in a timely manner … was unreasonable and inexcusable," the judge wrote in his order. Judge Magnuson cited electors in other states who faced similar situations and filed their lawsuits prior to the meeting of electors, saying that Abdurrahman should have done the same. The judge also noted that if Abdurrahman got his way, the votes of the people would count less, which would be a greater harm than what he suffers by being replaced as an elector.
Abdurrahman v. Swanson by Derek Muller on Scribd
[Image via Joseph Sohm/Shutterstock]
Have a tip we should know? [email protected]