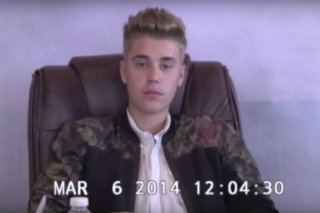 Remember that video of Justin Bieber acting out during a deposition a few years ago? It looks like the Canadian-born pop singer does, too, because he's looking to make sure that his latest deposition doesn't go public like that one did. According to TMZ, who obtained the relevant filings from Los Angeles Superior Court, Bieber's lawyers are arguing that the deposition has a strong likelihood of becoming a spectacle, to the point that it would be unfair to him if the video saw the light of day. As precedent, they cited the order of protection that President-elect Donald Trump got, blocking the release of his deposition in the recently settled Trump University lawsuit.
This case goes back to 2014, when Bieber egged his neighbor's house causing in excess of $80,000 worth of damage. He was charged criminally, copped a plea, and ended up paying $80,900 restitution to the victims in addition to doing 40 hours of community service at a homeless shelter. Since he was hit with a  restraining order, he sold his house to Khloe Kardashian and moved away. Bieber's neighbors, Jeffrey and Suzanne Schwartz, subsequently sued him, not just citing the egging, but also alleging that he had harassed them regularly. Incidents cited in the complaint include include regular loud parties, spitting in Jeffrey Schwartz's face after a dispute over the singer driving his car at high speeds down the street of their gated community, and calling Jeffrey Schwartz "Jew boy."
The previous deposition that did damage to Bieber's public image stemmed from a lawsuit filed by a photographer who alleged that the singer's bodyguards attacked him. During the deposition, Bieber was simultaneously combative and aloof, saying he didn't know Usher when his real name was used, and expressing confusion when he was asked to watch a "film" on the TV behind his chair.
Have a tip we should know? [email protected]