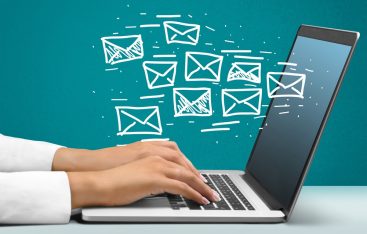 The Seventh Circuit Court of Appeals released an opinion earlier this month in one of the more bizarre lawsuits you'll likely come across.  Naturally, the case stems from an underlying fight between a husband and wife that the Seventh Circuit politely described as an "acrimonious divorce."
After nearly 41 years of marriage, Paula Epstein evidentially had enough of her husband Barry's alleged cheating, so she filed for divorce in 2011 and specifically accused her estranged husband of "serial infidelity" in the petition.
Barry was seemingly not happy with the characterization, so he responded by demanding any and documents Paula has in her possession to that backed up the allegations.  No one seems to have told Barry the old saying "be careful what you wish for" because in response to the request, Paula's lawyer "produced (among other things) copies of email correspondence between Barry and several women."
Ouch.
Except, there is a kicker.
As the Court then notes, it appeared that the emails had "been forwarded from Barry's email accounts to Paula's . . . which caused a shocked Barry to surmise "his wife must have secretly placed a 'rule' on his email accounts automatically forwarding his messages to her."
In other words, Barry believes she placed some sort of email forwarding software for as long as five years on his computer that enabled her to read anything that was emailed to his address without his knowledge.
So, amid an already "acrimonious" divorce proceeding, Barry went out and sued Paula under a statute that authorizes civil lawsuits against persons who violate the Wiretap Act.  Not only did he accuse Paula of violating the Wiretap Act, but he also named her divorce lawyer as a party to the suit, accusing him of violating the Act by disclosing and using the emails during the divorce case — including attaching some as exhibits to court files that could presumably become part of the public record.
A lower court judge dismissed Barry's Wiretap lawsuit against both Paula and her attorney, but the Seventh Circuit partially reversed the decision.  The appeals court ruled there was no cause of action against lawyer for essentially simply disclosing Barry's own emails to him pursuant to his own discovery request.  However, the Seventh Circuit ruled the case against Paula could proceed.
Here is why.
It a crime under 18 U.S.C. § 2511(1)(a) of the Wiretap Act to "intentionally intercept[] [or] endeavor[] to intercept … any wire, oral, or electronic communication."  Furthermore, the intentional "disclos[ure]" or "use[]" the contents of illegally obtained intercepts is a crime under 18 U.S.C § 2511(1)(c), (d).
The Appeals court held it was wrong to dismiss the claim against Paula's claim because there is still a question of fact as to the timing of the "interception" of Barry's email.  To succeed on the claim against Paula, Barry will need to show that the forwarding software basically copied the content of the his emails immediately on a server.  The timing of when Paula actually received and read them is basically irrelevant in determining the time of interception.
In other words, Barry can still show the illegal interception was contemporaneous — which is necessary to prevail on his claim — so the lower court dismissal was premature.
[image via Billion Photos via schutterstock]
Have a tip we should know? [email protected]