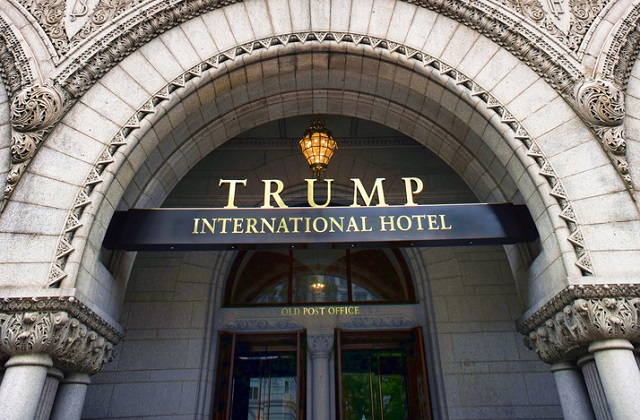 A federal judge in Washington, D.C. weighed in on the lawsuit brought by the Attorneys General of D.C. and Maryland that claims President Donald Trump's business interests violate the Emoluments Clause of the Constitution. Trump's legal team argued that the AGs lacked standing to bring the case in the first place and moved to have it dismissed. On Wednesday, the court allowed the lawsuit to move forward, but only with regards to the Trump International Hotel and its related business in D.C.
The lawsuit alleges that Trump's businesses pose multiple problems as long as he's president. For starters, it claims that representatives from foreign governments who stay at his hotels are essentially giving him money, in violation of the Foreign Emoluments Clause, which prohibits "any present, Emolument, Office or Title, of any kind whatever" from a foreign government or official without the approval of Congress.
Second, it claims that local businesses are losing out because people are staying at Trump properties instead of theirs because they want to please the president.
The complaint was initially filed against Trump in his capacity as president, but later named him personally.
The opinion, by U.S. District Judge Peter J. Messitte, declared that D.C. and Maryland have made arguments of alleged injuries traceable to the president's interest in the hotel and related Trump Organization business.
"A large number of Maryland and District of Columbia residents are being affected and will continue to be affected when foreign and state governments choose to stay, host events, or dine at the Hotel rather than at comparable Maryland or District of Columbia establishments, in whole or in substantial part simply because of the president's association with it," Judge Messitte wrote.
Still, the judge said they can't show that as far as Trump's business outside D.C. are concerned, so they don't have standing for claims related to them.
[Image via Gabriella Demczuk/Getty Images]
Have a tip we should know? [email protected]